Dispenser Kit eliminates adhesive-related waste.
Press Release Summary: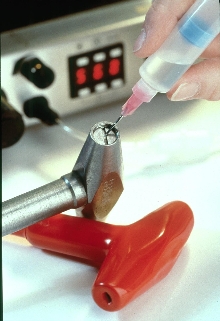 Model 1500XL-CA tabletop dispensing unit uses microprocessor circuitry and controlled air pressure to provide control over amount of cyanoacrylate applied, allowing user to dispense same amount every time. Cyanoacrylate is contained in disposable syringe reservoir connected to dispenser console by air line. Clog-resistant, Teflon(R)-lined dispense tips provide trouble-free application. Coalescing filter regulator removes residual moisture from air supply.
---
Original Press Release:
Cyanoacrylate Dispenser Reduces Assembly Costs and Improves Bond Reliability

East Providence, RI USA -- By allowing each user to apply the same amount of cyanoacrylate or "super glue" every time, EFD's 1500XL-CA dispensing kit eliminates adhesive-related waste, rework and rejects and improves bond reliability.

The 1500XL-CA is a tabletop dispensing unit that uses proprietary microprocessor circuitry and controlled air pressure to provide precise control over the amount of cyanoacrylate applied. All guesswork and variability are removed from the dispensing process, so that the user always applies a consistent amount of adhesive, whether bonding 1,000 or 100,000 parts. The dispenser also has a convenient "Teach" function that makes it easy to determine the best amount of cyanoacrylate to use for a specific application.

To contain fumes and prevent contamination, cyanoacrylate is contained in a disposable syringe reservoir that is connected to the dispenser console by a lightweight air line. The reservoir is fitted with a unique piston that improves adhesive control. Clog-resistant, Teflon®-lined dispense tips provide trouble-free application of low viscosity cyanoacrylates.

Since moisture is a major concern for cyanoacrylate users, the 1500XL-CA includes a coalescing filter regulator to remove residual moisture from the air supply. Other items in the kit include a selection of dispense tips and a helpful guide to cyanoacrylate dispensing. For more information go to www.efd-inc.com/cyano and download the new EFD white paper on cyanoacrylate, or contact the EFD Fluid Application Specialists at 800-556-3484.

EFD Inc. is a wholly owned subsidiary of Nordson Corporation, the world's leading producer of precision dispensing equipment. Nordson and EFD systems apply adhesives, sealants and coatings to a broad range of consumer and industrial products during manufacturing operations, helping customers meet quality and productivity targets.

EFD Inc., 977 Waterman Avenue East Providence, Rhode Island 02914-1378 USA; Telephone (401) 434-1680; Fax (401) 431-0237; Toll free US and Canada 800-556-3484; e-mail atausek@efd-inc.com; www.efd-inc.com

Art Tausek

atausek@efd-inc.com
More from HVAC