Discover Europlacer's Full Line Configuration at APEX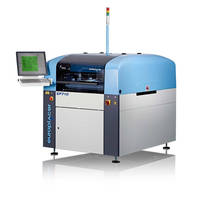 Tampa, FL - Europlacer, a manufacturer of market-leading flexible SMT placement machines, will exhibit in Booth #1410 at the 2016 IPC APEX EXPO, scheduled to take place March 15-17, 2016 at the Las Vegas Convention Center. Europlacer will demonstrate its full line configuration, representing unparalleled flexibility and value. Core to the configuration is the ability to manage the entire SMT line without compromise.



Europlacer offers the capability to print, dispense, inspect, place, test, convey and reflow the full range of devices from 01005 and 0.3 pitch BGAs to 99mm connectors and 300g heatsinks. Europlacer has it all in a single line solution developed, manufactured and supported under one roof. Products to be displayed during the show include:



EP710 - Established as a market-leading solution, the EP710 gives the user confidence and capability to print or dispense any medium onto any substrate with absolute precision. As standard, the EP710 can manage 610mm x 515mm PCBs and utilizes the very latest vision platform in the Dual Roving camera system, providing a lifetime of optimum performance and reliability.



iiNEO - The iiNEO platform eliminates the need to compromise or worry about the type of components, size of substrate or special applications need to be processed, as the iiNEO can do it all and in a single structure. The standard configuration of 264 x 8mm feeders plus four Jedec trays, and PCB size of 700mm x 460mm is not compromised nor is throughput affected even if you want to add such options as Component Testing, Fluxer (PoP) or Glue / Solder dispensing. It is all simply and effectively contained inside the single structure.



During the show, company representatives will demonstrate special and odd-form component handling as well as component testing on-the-fly.



Offline Productivity systems - Europlacer will present its suite of offline productivity and stock management solutions, allowing customers to see just how much benefit can be gained through full integration of the placement systems into the wider production environment, through its use of a number of productivity tools such as Stock management and LZero3, as well as Full Traceability and offline programming systems.



For more information, schedule a meeting with company representatives during the IPC APEX EXPO or visit www.europlacer.com.



About Europlacer

Europlacer became a division of Parable Trust Ltd. in 2013. Europlacer has been developing machines for SMT electronics assembly since the 1970s and invented the intelligent feeder concept in the 1980s. After acquisition by Blakell Europlacer in 1991, the company moved away from split-axis to the inherently more capable X-Y architecture that underpins the company¡¦s pick-and-place machines today. Europlacer's policy has been to ensure wherever possible that technology purchased many years ago, especially feeders, remain compatible with the latest pick-and-place equipment. Europlacer designs and manufactures a comprehensive range of highly flexible SMT pick-and-place systems for the global electronics industry. For more information, visit Europlacer's Web site at www.europlacer.com.







More from Architectural & Civil Engineering Products