Discharge Testing System maximizes forklift battery health.
Press Release Summary: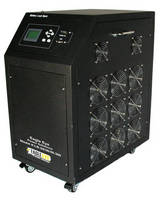 Designed to load test and maintain batteries for motive power industry, LB-24/36/48-300 Load Bank comes with wireless monitoring that allows for real-time communication during discharge on system level. Optional data acquisition case add-ons allow for wireless monitoring per cell during discharge; voltage of each CELL is displayed and recorded. Via this portable and safe solution, most forklift batteries undergo industry-standard 6 hr load test.
---
Original Press Release:

Discharge Testing Solutions for Forklift Batteries



Eagle Eye Power Solutions #1 LB-24/36/48-300 Load Bank Maximizes Forklift Battery Health

Eagle Eye Power Solutions offers the complete discharge testing solution for your forklift batteries. The LB-24/36/48-300 Load Bank is specifically designed for the motive power industry to load test and maintain your batteries - saving you time & money. Please visit www.eepowersolutions.com for more information or call us at 1-877-805-3377.

Eagle Eye's LB-Series is the industry leader in smart load testing. The motive power-specific LB-24/36/48-300 Load Bank comes standard with wireless monitoring - allowing for real-time communication during discharge on a system level. Optional "DAC" (data acquisition case) add-ons allow for wireless monitoring per CELL during discharge. This means the voltage of each CELL will be displayed and recorded, and you can evaluate the health of each cell individually - providing substantial cost savings if replacement is needed. Most forklift batteries go through an 'industry-standard' six-hour load test. Eagle Eye Load Banks are portable, safe, environmentally-friendly, and are the most reliable way to measure battery capacity.

Why Choose Load Testing?

Load Testing is critical to evaluate motive power battery performance capacity, identify problematic trends, and save you from costly downtime. Discharge testing gives allows for a thorough battery evaluation, and will allow you to see how your battery behaves on a charge. Choose to charge, replace, or keep your batteries based on the smart load test results. Utilize battery warranties, improve budget forecasts, and reduce battery inventory with the Eagle Eye LB-24/36/48-300 Load Bank.

Eagle Eye Power Solutions is the industry leader in battery test equipment, education, service & support. We are your #1 Source for Load Banks. Eagle Eye also has a complete line of Digital Hydrometers - cost-effective solutions for lead-acid battery maintenance. Hydrometers are fundamental to measuring the state-of-charge and cell condition in your forklift battery.

Eagle Eye offers free training with any purchase to guarantee the best results & testing procedures for your company! We sell internationally with distributors across the world, giving you the best service & support possible. Call for any questions & custom applications. Request a quote today HERE.

Eagle Eye Power Solutions
www.eepowersolutions.com
info@eepowersolutions.com
Tel: (toll free): 1 - (877) - 805-3377
1- (414) - 962-3377

More from Electronic Components & Devices