Disc Makers Starts Making Face Shields in Response to COVID-19 Crisis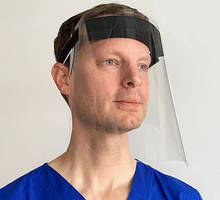 The independent CD manufacturer is switching gears to support healthcare professionals in short supply.
Pennsauken, N.J. (PRWeb) March 23, 2020 -- Like many businesses in the US, 73-year-old Disc Makers, one of the country's largest manufacturers of CDs, DVDs, USBs, and other physical media, saw demand for its products drop significantly due to the COVID-19 crisis. Hearing of the shortages in medical supplies, and wanting to help out during this national emergency, the company has quickly pivoted to making protective face shields for medical testing and other uses.
"We are used to making stuff. There's a crying need in the country for protective gear, and face shields were the quickest item we could ramp up to make," states company CEO Tony van Veen. "Our manufacturing team is shifting over to full-time production and will be ready to start shipping as early as Tuesday, March 24th. It's the right thing to do for our community, and our staff is eager to help in any way they can during this turbulent moment in our country's history."
Disc Makers' face shields will be assembled and packaged in its Pennsauken, NJ facility. The company expects to rapidly evolve its product design and selection based on market feedback and demand.
For more information, please contact faceshields@discmakers.com or visit http://www.discmakers.com/faceshields.
About Disc Makers
Disc Makers is the nation's largest CD and DVD manufacturer for independent artists, filmmakers, and content creators. The company was founded in 1946 and is part of DIY Media Group of Pennsauken, NJ. Other DIY Media Group companies include BookBaby–a book printer and self-publishing platform for independent authors–and Merchly–a T-shirt and garment printer for artists and small businesses.
http://www.DIYmediagroup.com
http://www.discmakers.com
http://www.bookbaby.com
http://www.merchly.com
Contact Information:
Dan Baker
VP of Marketing
DIY Media Group
http://www.discmakers.com
+1 6096946677
More from Cleaning Products & Equipment