Directional Coupler is wound on dual aperture ferrite cores.
Press Release Summary: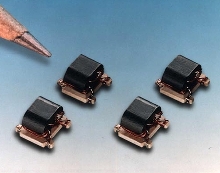 Model GLSL20D102 20dB surface mount coupler operates from 1 MHz to 1 GHz with typical insertion loss of less than 0.5 dB from 2 MHz to 1 GHz. Terminals are formed on ceramic base from ends of coil windings eliminating solder joints. Coupler is suitable for automatic insertion on surface mount circuits assembled using reflow or vapor phase soldering. Operating temperature range is -40 to +125°C, and soldering heat resistance is 230°C for 5 sec.
---
Original Press Release:
Smaller Size, Low Cost SMT Directional Couplers Meet High Performance Standards
Westbury, New York...Sprague-Goodman Electronics has introduced a new series of surface mount directional couplers to be used for RF circuitry, broadband, mobile radio and satellite TV technologies. The new series, designated GLSL, is the third, and smallest of the directional couplers wound on dual aperture ferrite cores that Sprague-Goodman offers. The compact design is on a ceramic base. Model number GLSL20D102 is a 20 dB coupler operating from 1 MHz to 1 GHz. Typical insertion loss is less than 0.5 dB from 2 MHz to 1 GHz. Directivity typically exceeds 10 dB from 1 MHz to 1 GHz. Operating temperature range is -40°C to +125°C. This coupler, like the wideband transformers and baluns wound in the dual aperture configuration, is suitable for automatic insertion on surface mount circuits assembled using reflow or vapor phase soldering. Terminals are formed on the ceramic base from the ends of the coil windings, eliminating solder joints between the coil and the terminals that could open from the heat of circuit assembly. Soldering heat resistance is 230°C for 5 s. Production pricing for model number GLSL20D102 is $ 1.20 each. Lead time for production quantities is 8 to 10 weeks. For additional information, contact Bernice Feller at Sprague-Goodman Electronics, Inc., 1700 Shames Drive, Westbury, NY 11590. Tel: 516/334-8700; Fax: 516-334-8771. Email: info@spraguegoodman.com
More from Mechanical Power Transmission