Direct Drive Linear Motors integrate optical quadrature encoder.
Press Release Summary: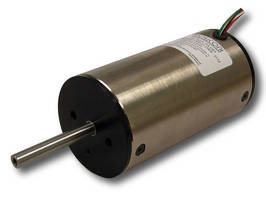 Offering 5.2 µm, 1.25 µm, and sub-micron resolutions, non-commutated SDLM-051 motors have zero-cogging design and eliminate backlash. Internal encoder directly connected to shaft promotes accuracy, and shaft weight fosters increased acceleration/deceleration. Measuring 2 in. dia x 3.75 in. long, these customizable motors have 1 in. stroke with continuous force of 5.0 lb and peak force of 15.8 lb. Spring is available to retract shaft to home position in case of sudden shutdown.
---
Original Press Release:

Direct Drive Linear Motors with Integrated Encoders Offer High Resolution, Speed, No Backlash, and Zero Cogging!



Van Nuys, CA -- New, patent-pending, SDLM-051 direct drive linear motors with built-in en-coder from MotiCont eliminate backlash and provide users with high acceleration, high speed, high resolution, and long life.  Available in several off-the-shelf models, these direct drive linear motors feature resolutions of 5.2 µm (0.000206 in.), 1.25 µm (0.000049 in), and sub micron resolution.  Compact, only 2 in. (50.8 mm) in diameter and 3.75 in (95.3 mm) long, and with the linear optical quadrature encoder inside directly connected to the shaft for the greatest possible accuracy, these motors can be easily integrated into new and existing applications using threaded features on the front and rear faces of the motor, as well as each end of the shaft.



The new SDLM-051 direct drive motors have a 1 in. (25.4 mm) stroke with a continuous force of 5.0 lbs (22.2 N) and a peak force of 15.8 lbs (70.2 N).  Non-commutated, motors have zero-cogging, and the light weigh of the shaft allows for high acceleration/deceleration for higher thru-put, and direct coupling to the load increases accuracy and resolution.  All SDLM-051 linear motors are available with a spring to retract the shaft to a home position in the event of a sudden shutdown, and they can be quickly customized to meet specific needs.



Typical SDLM-051 direct drive motor applications include: Automated assembly, component insertion, fluid dispensing, pick-and-place, robotics, wafer handling, sorting, valve and flow control, labeling, tension control, and laser machining in the processing, manufacturing, medical, inspection, metrology and other industries.



About MotiCont - MotiCont is a manufacturer of motion control products. Their product line includes voice coil motors, three phase brushless motors and positioning stages and slides.



MotiCont is committed to exceeding their customers' quality expectations and industry stand-ards throughout the design, manufacturing, service and technical support phases. Our mod-ern manufacturing facility, highly controlled processes, committed staff, and extensive testing complement our product design strengths. This enables us to supply our clients with specialized small orders to high volume just-in-time deliveries.



We offer an extensive line of standard products ready to be shipped immediately from stock, and when standard products are not quite right for an application, highly trained design engineers are always available to develop custom motion control products to fit the specific needs or our customers.



For additional information, contact Joseph Hank  at: MotiCONT, 6901 Woodley Ave.; Van Nuys, CA 91406; Telephone: 888-785-1804 or +1 818-785-1800, or E-Mail: 

[email protected]

or visit the Web site at: http://www.moticont.com.