Direct Displacement Control Pump provides 20 cm³ displacement.
Press Release Summary: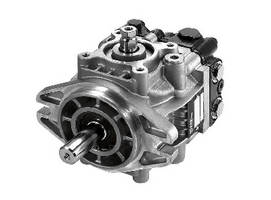 Measuring just 183.5 mm long, Model DDC20 allows installation in space-constrained, light-duty OEM equipment. Male slipper design minimizes friction on both piston and bore of cylinder block, optimizing fuel efficiency and extending oil life. Valve plate design brings noise down to 78.5 dBa while operating at 200 bar and 2,000 rpm. With optional loop flushing and bypass valves, machine or load can be moved without rotating pump shaft or engine.
---
Original Press Release:

Sauer-Danfoss Launches New 20 cm3 Direct Displacement Control (DDC) Pump



Best-in-class efficiency, compact design and wide range of options make DDC20
the flexible, low-noise solution for wide array of small equipment

OSAKA, Japan, - Sauer-Danfoss Inc. (NYSE:SHS) Sauer-Danfoss is pleased to introduce the DDC20 - a new 20 cm3 direct displacement control pump - to their lineup of pumps and motors for transmissions on mobile equipment. As the most compact pump on the market, the DDC20 offers unparalleled efficiency, low noise and the flexibility to perform in a wide array of light-duty equipment applications.

"We developed the DDC20 pump to be one of the most versatile and well-balanced compact pumps on the market," said Toshihiro Naruse, Product Marketing Manager for Sauer-Danfoss. "With its expanded functionality, excellent total efficiency, low noise and easy installation, we believe the DDC20 is a significant contribution to overall vehicle design." The DDC20 pump can be applied with most Sauer-Danfoss low speed high torque motors as well as axial piston motors such as Series 40 and LK motors.

Compact Design

At 183.5 mm, the DDC20 has the shortest length of any comparable pump on the market, simplifying circuit design and allowing for easy installation in even the most space-constrained OEM equipment. The DDC20 ensures ample room around the pump, which is typically the most significant design restriction many engineers face when developing compact machines.

"Today's engine compartments are filled with more components than ever before, making compact design a must," said Toshihiro. "The DDC20 is not only the most compact pump on the market, but also has the highest power density on the market, making it well-suited for everything from zero-turn mowers, small rollers, sweepers, utility vehicles, sprayers, trenchers, compact tractors and more."

Best-in-Class Efficiency

The DDC20 boasts best-in-class efficiency without compromising performance. Its male slipper design reduces friction on both the piston and the bore of the cylinder block, which works to reduce oil temperature, improve fuel efficiency and extend oil life, resulting in better overall efficiency.

"As we listen to our OEM customers, efficiency always seems to be at the forefront of their minds, because it equates to overall productivity of their equipment," said Toshihiro. "We took that sentiment back to our product development team, and they designed the most efficient compact pump on the market."

Lower Noise and Vibration

Through simulation analysis, Sauer-Danfoss has optimized the valve plate design of the DDC20 in order to reduce noise to 78.5 dBa while operating at 200 bar, 2000 rpm - a level equivalent to the Sauer-Danfoss LPV25 pump, which boasts best-in-class noise reduction. The DDC20 is also designed with a journal bearing in the trunnion, which helps to reduce operating vibration and ensure comfortable human-machine interface.

"Transmissions are typically installed directly below where an operator is sitting, so noise and vibration can often be a big disturbance, impeding productivity," said Toshihiro. "The journal bearings on the DDC20 help to reduce resonance between the redesigned valve plate and the linkage to the vehicle, which results in quiet operation and lower vibration, keeping the operator comfortable and productive."

Wide Range of Options

The DDC20 is available with a wide range of options, including various high pressure relief valves, providing OEM vehicle designers the flexibility to use it with an array of motor combinations. With an optional auxiliary pad, the DDC20 also accommodates future conversions and additional components.

The available loop flushing and bypass valves promote ease of use and reliability, allowing a machine or load to be moved without rotating the pump shaft or engine. Additionally, the valves ensure long oil life, satisfying the higher cooling demands and the challenging contamination levels of today's equipment.

"The DDC20 is meant to stimulate the imaginations of equipment designers while simplifying the installation and integration process," said Toshihiro. "Its wide range of options coupled with its compact size and power density ensure it can be incorporated into any design, while providing the performance end users demand."

About Sauer-Danfoss

Sauer-Danfoss Inc. is a worldwide leader in the design, manufacture, and sale of engineered hydraulic and electronic systems and components for use primarily in applications of mobile equipment. Sauer-Danfoss, with 2010 revenues of approximately $1.6 billion, has sales, manufacturing, and engineering capabilities in Europe, the Americas, and the Asia-Pacific region.

More details online at www.sauer-danfoss.com


More from Machinery & Machining Tools