Direct Diode Lasers operate in continuous wave or pulsed mode.
Press Release Summary: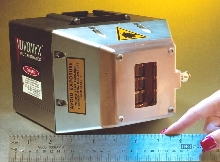 Series ISL laser systems deliver up to 4,000 watts and are capable of operating perpendicular to surface of either aluminum (70% reflective) or copper (95% reflective). Water-cooled, microprocessor controlled systems provide light energy with linear polarization at center wavelength of 805 ±10 nm. Minimum pulse width is 1 msec with duty cycle from 0 to 100%. Working distance is 40 to 90 mm with spot size from 12 x 0.5 mm to 6 x 0.4 mm.
---
Original Press Release:
High-Power Direct Diode Lasers Shine In Heat-Treating and Cladding Applications

Laser transformation hardening can case-harden materials with negligible distortion.

BRIDGETON, MO - May 2002 - Nuvonyx Incorporated, world leader in solid-state laser design and manufacturing, has the knowledge required to develop manufacturing processes that meet specific production needs. The company's expertise is focused on a wide variety of laser applications, including laser heat-treating, laser cladding, and laser surface treatment.

Nuvonyx ISL laser material processing systems combine state-of-the-art technology with ease of use for practical application solutions. The ISL series of lasers can be operated in Continuous Wave or Pulsed mode, delivering up to 4000 watts with complete control of the laser power. Nuvonyx manufactures the only direct diode laser system capable of operating perpendicular to the surface of either aluminum (70% reflective) or copper (95% reflective) at, more than 4000 watts for 24 hours of continuous operation.

The ISL-2000L, ISL-4000L, and ISL-4000L HD laser systems combine state-of-the-art micro-optics with laser diodes to produce a high-efficiency, reliable heat source for a variety of applications. The water-cooled, microprocessor controlled systems provide light energy with linear polarization at a center wavelength of 805±10 nm. The minimum pulse width is 1 msec (100 microsecond, optional) with a duty cycle from 0 - 100 percent. The laser has a working distance from 40 - 90mm with a spot size from 12mm x 0.5mm to 6mm x 0.4mm.

Heat-Treating With HDDL Systems

A material can be case hardened with negligible distortion by laser transformation hardening, giving it clear advantages in comparison with flame and induction surface transformation hardening techniques. Flame hardening has poor reproducibility, poor quench, and environmental issues. In induction hardening a quench is required, distortion of the part occurs, and there is large thermal penetration.

With laser beam hardening the applied light radiation instantaneously heats the surface with no radiation spillage outside the optically defined area. The bulk of the material acts as a heat sink for the extraction of heat from the surface. The major advantage of laser surface treatment is high processing speed with precise case depths. Laser surface transformation hardening not only increases the wear resistance; but, under certain conditions, the fatigue strength also is
increased due to the compressive stresses induced on the workpiece surface.

The high-power direct diode laser (HPDDL) is an ideal source for laser transformation hardening. The line of light, when moved across the workpiece along the short axis, has high edge definition without the need for special cylindrical lenses, such as those required with Nd:YAG sources, or water-cooled integrators as with C02 lasers. At a wavelength of 805nm, the
HPDDL is highly absorptive and requires no pre-coating of the workpiece to achieve absorption. The modulation bandwidth of 350Hz for the ISL-4000L makes it ideal for in-situ temperature control.

Diode Laser Cladding Produces High-Quality Coatings

The HPDDL and its unique beam also provide a highly efficient tool for use in cladding operations. Using the HPDDL in cladding provides the user with a unique line source that produces clads with a controllable width without scanning. C02 and Nd:YAG lasers have a smaller spot, so that the laser must be scanned over the cladded area. The shorter wavelength of the HPDDL allows for higher absorption into the material being cladded, so that a higher process speed can be achieved.

Laser cladding also has several advantages over plasma cladding processes. The substrate of laser clads are free of the micro-cracks and pores typical with the plasma clad process. Other advantages of the HPDDL over plasma processes include the uniformity of the HPDDL coating, the manual requirement of plasma processes, cracks and pores in a plasma clad.

Committed to Providing Complete Processing Solutions

Nuvonyx specializes in process development and tooling design resulting in products that are tested and designed for specific industrial applications. This combination of enhanced performance technology and tailor-made design provides maximum control and efficiency, supporting the user's drive to increase profitability, while giving the user a more competitive edge.

From precision design to delivery and training, Nuvonyx provides support for its systems every step of the way. Nuvonyx trains users to operate the system in a manner that achieves the maximum results and the safest operation, while meeting every aspect of the user's objectives and ensuring a smooth installation. The ultimate goal for every Nuvonyx system is complete user satisfaction.

Nuvonyx is an American company, headquarted in St. Louis, MO. The employees of Nuvonyx have more than 130 years of experience in the design, development, and production of Direct Diode Lasers and have pioneered many of the initial uses of this technology. Nuvonyx has strong materials processing knowledge, and the company's sole focus is to build and support Direct Diode Lasers for industrial material processing applications.

46025 PORT STREET, PLYMOUTH, MI 48170 / 734.459.0476
FAX: 734.459.0481 / E-MAIL: MCRYDERMAN@NUVONYX.COM
More from Fasteners & Hardware