Direct Die Feeders install on GenesisSC Platform.
Press Release Summary: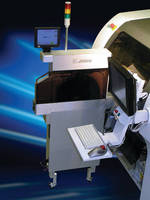 Innova and Innova + direct die feeders are portable, high-speed units that enable GenesisSC system to assemble complete module on single machine. Multiple feeders can be installed on single placement machine with minimum feeder slot consumption and feeders can alternate operation for continuous running of like part numbers. Units process wafers up to 300 mm in size and include vision processing, wafer map input or ink dot identification, and barcode identification and tracking.
---
Original Press Release:

Universal's Innova Feeder Delivers High- Speed Bare Die to Mainstream Manufacturing



Universal Instruments is embracing the convergence era of electronics assembly with the introduction of the Innova and Innova + direct die feeders. This revolutionary technology enables the presentation of wafer-level devices to Universal's GenesisSC Platform without incurring costly packaging charges.

Universal Instruments' Advanced Semiconductor Solutions are built upon the high-accuracy GenesisSC (semiconductor) Platform. This uniquely flexible solution incorporates advanced technologies and peripherals that extend equipment capabilities into next-generation assembly.

The Innova and Innova + direct die feeders - the world's first and only totally portable highspeed direct die feeders - give GenesisSC the ability to assemble a complete module on a single machine, placing die and passives precisely and seamlessly. Debbora Ahlgren, Universal Vice President of Marketing, states, "Our semiconductor solutions offer a uniquely modern and versatile approach to the next-generation of manufacturing challenges." Ahlgren continues, "With flip chip semiconductor devices integrated into Bluetooth and WiFi, Automotive Hybrids, Security and a host of other devices, the combination of a high-volume, flexible placement system and Innova wafer-level feeders provides an efficient, profitable flip chip and/or System-in-Package (SiP) assembly solution."

The Innova family allows for the installation of multiple feeders on a single placement machine with minimum feeder slot consumption. Alternate feeder functionality allows for continuous running of like part numbers on multiple feeders. Innova offers true flexibility by presenting a wide variety of flip chips or circuit-up devices with easy relocation and simple changeovers as demands change. The Innova feeder processes wafers of various sizes up to 300mm.

Innova + processes up to 13 300mm wafers with on-board expansion capabilities. Further, the Innova family features state-of-the-art, on-board vision processing; wafer map input or ink dot identification; bar code identification and tracking of wafers; and parallel processing for optimum throughput. GenesisSC and Innova deliver a comprehensive solution of high reliability, high speed, and superior flexibility.

The ability to adapt across a wide range of applications allows for a fast, effective transition to new technologies and products to help get them to market faster, reduce operating costs, and enjoy long-term asset protection. Universal Instruments' solutions include not only best-in-class equipment, but also proven in-depth process knowledge, application expertise, and integration experience to ensure the highest yield and reliability at the lowest possible cost.

Universal Instruments:

Universal Instruments is a global leader in the design and manufacture of advanced automation and assembly equipment solutions for the electronics manufacturing industry. Universal provides complete assembly lines to EMS Providers, ODMs and electronics assemblers around the world, leveraging its portfolio of compatible and flexible equipment platforms that address the diverse requirements of high-speed chip and multifunction placement applications as well as component insertion. Universal Instruments is headquartered in Binghamton, with offices in Europe, Asia, and the Americas.