Diode Laser suits pumping and direct-diode applications.
Press Release Summary: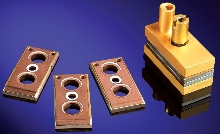 Suited for use in direct-diode materials processing and as pump source for diode-pumped lasers, LightStone(TM) produces 80 W continuous-wave output at 808 nm. It is based on macro-channel-cooled platform and can be stacked vertically or horizontally. This 90% fill-factor bar has operating current and voltage of 104 A @ less than 2.1 V, and beam divergence is less than 35º by less than 10º FWHM. Product is MBE-grown and has aluminum-free active area design.
---
Original Press Release:

Coherent Expands LightStone Family of High-Power Diode Lasers


80W LightStone is Highest Power Diode Laser for Pumping and Direct-Diode Applications

Santa Clara, Calif., May 24, 2004 - Coherent, Inc. (Santa Clara, CA) (Nasdaq:COHR) introduces the latest addition to its LightStone(TM) family of high-power diode lasers. The new LightStone produces 80W of continuous-wave output at 808 nm. It is the highest power diode laser available for use in direct-diode materials processing and as a pump source for diode-pumped lasers.

As with all LightStone products, the 80W LightStone is based on the industry standard, macro-channel-cooled platform (MCCP). Due to this unique mounting and cooling technology, LightStone can be stacked vertically or horizontally, making it an ideal building block for applications requiring kilowatts of CW power.

This 90% fill-factor bar has a typical operating current and voltage of 104 amperes at less than 2.1 volts. Beam divergence is less than 35º by less than 10º, FWHM. LightStone provides greater than 40% power conversion efficiency, even at elevated temperatures. The proprietary cooling technology behind LightStone's thermal resistance, which is less than 0.35° C/W, is the foundation for the unit's 7,000-hour lifetime (20% operating current increase).

Coherent diode lasers are MBE-grown and feature an aluminum-free active area design, which provides robust high-temperature performance, and nearly eliminates dark-line and spot defects, sudden failures and gradual degradation typically found in MOCVD-grown AlGaAs diode lasers. And since there is no aluminum in the active region of the device, there is no oxidation in the facets-the leading failure mechanism with AlGaAs diode lasers.

Founded in 1966, Coherent, Inc. is a Standard & Poor's SmallCap 600 company and a world leader in providing photonics-based solutions to the commercial and scientific research markets. Please direct any questions to Sri Venkat, Director of Product Marketing at (408) 764-4446. For more information about Coherent, including product and financial updates, visit our Web site at www.Coherent.com.

Contacts:

Sri Venkat
Coherent, Inc.
(408) 764-4446
sri.venkat@coherent.com

Related