Diode Laser Bar features sealed package and high power.
Press Release Summary: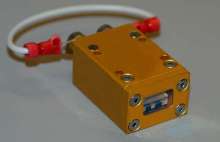 DuraLite(TM) offers 810 nm, 50 W bar housed in environmentally sealed and lensed conduction-cooled package, suitable for integration into graphic arts and direct-diode materials processing applications. Device features several die attach enhancements and typical drive current and compliance voltage for device is <63 A and <1.8 V, respectively. Spectral width is <4.0 nm, FWHM. Fast axis collimates to <5 mrad FWHM, with near-diffraction-limited side lobe performance.
---
Original Press Release:

Coherent Launches New Diode Laser Product Line


DuraLite Products Feature Sealed Package, High-Power and Long Lifetime

Santa Clara, Calif., April 13, 2004 - Coherent, Inc. (Santa Clara, CA) (Nasdaq: COHR) introduces DuraLite(TM), the first in a series of new diode laser products and the latest in its extensive family of field-proven diode laser bars. The first available DuraLite product is an 810 nm, 50W bar, an environmentally sealed and lensed conduction-cooled package (CCP), ideal for integration into graphic arts and direct-diode materials processing applications.

DuraLite features a combination of high-power output and unmatched reliability based on a proven design. The device is housed in a sealed package to prevent contamination, and it is mounted on an industry-standard, conduction-cooled platform for ease of integration. The DuraLite also features several die attach enhancements, resulting in long, reliable operation. The company plans to develop a variety of DuraLite products to give customers several options for wavelength and output power.

Typical drive current and compliance voltage for the 50-watt device is less than 63 amperes and less then 1.8 volts. Spectral width is typically less than 4.0 nm, FWHM. Fast axis can be collimated to less than 5 mrad FWHM with near-diffraction-limited side lobe performance.

Coherent diode lasers are MBE-grown and feature an aluminum-free active area design, which nearly eliminates dark-line and spot defects, sudden failures and gradual degradation typically found in MOCVD-grown AlGaAs diode lasers. And since there is no aluminum in the active region of the device, there is no oxidation in the facets-the leading failure mechanism with AlGaAs diode lasers.

Founded in 1966, Coherent, Inc. is a Standard & Poor's SmallCap 600 company and a world leader in providing photonics-based solutions to the commercial and scientific research markets. Please direct any questions to Sri Venkat, Director of Product Marketing at (408) 764-4446. For more information about Coherent, including product and financial updates, visit our Web site at www.Coherent.com.

Contacts:
Sri Venkat
Coherent, Inc.
(408) 764-4446
sri.venkat@coherent.com

David Kuntz
Technical Marketing Services
(310) 377-5393
davidkuntz@cox.net

More from Controls & Controllers