Dinkle Remote I/O Series - High Density I/O connection & Fast Wiring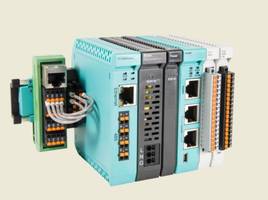 Dinkle Remote IO series offers 12mm wide compact modularized slot and optional communicated connections (Ethernet/Wire Connection). Dinkle Remote IO has highest density IO connection compared to industrial standards. Users can easily setup the IO system in a limited space in control panel; modularized slot design allows extending the IO connection.
Dinkle Remote IO series is designed with PID (Push-In Design) terminal blocks, which can save up to 80% labor time and 60% wiring material waste. Additionally, Dinkle Remote IO module system is engineered with the requirement of safety and reliability during wire harnessing. It's convenient for system maintenance and troubleshooting. LED light indicators are available on each channel. Each connection comes with a LED light pipe that enlarges the signal and easily lets users monitor during operations. It's easy to read wiring sign and prevent misconnection.
Remote IO can be applied to each type of PLC and configuration can be extended to maximum 247 IO modules. The controller is designed with Modbus RTU communication protocol to control the IO module. It creates more flexibility and fits to multiple industrial needs. Dinkle Remote IO configures with Modbus TCP communication protocol through the Gateway module to extend IO modules for commanding more devices. It's flexible and can be applied to different types of industrial environments.
Product Briefing
Digital Input Module: 16 channels, Sink/Source
Digital Output module: 16 channels, Sink, 0.5 Amp per channel
Gateway: Modbus TCP/Modbus RTU, 1 Ethernet/4 RS-485 Ports.
Dinkle Corporation, USA
12613 Executive Drive Suite 704
Stafford, TX 77477
Phone: 832-539-4703
Contact:
Albert Yang
Sales Manager
email: info.us@dinkle.com
More from Controls & Controllers