DIN-Rail Mounted PCs offer IECEx, ATEX, and UL certifications.
Press Release Summary: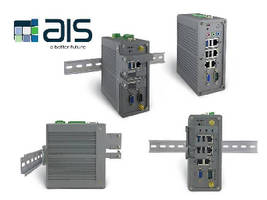 Available in Windows Embedded and Linux operating systems, DIN-Rail Embedded Computers are equipped with Intel® Atom™ multi-core processors or Quad-Core Celeron® N2930 processors. Fanless industrial units operate from -20 to +60°C and carry IECEx, ATEX, and UL Safety Certifications for Hazardous Division 2 and Zone Areas in remote plants and industrial manufacturing facilities and factories.
---
Original Press Release:

AIS's Rugged Industrial DIN-Rail Mounted PC with IECEx, ATEX, and UL Safety Certifications Are Designed to Be Safely Operated in Hazardous Division 2 and Zone 2 Areas



AIS's PC-based, DIN-Rail Automation Controller with Compact Size, Small Footprint, Front Accessible I/O and Wide Operating Temperate Range for Industrial Automation Systems



IRVINE, CALIFORNIA – American Industrial Systems, Inc. (AIS) the leader of open architecture, Industrial PCs (IPCs), Industrial HMI Panels, Touch Panel Computers, Industrial Box PCs, Industrial DIN-Rail PCs, and Industrial Thin Clients, has introduced a new offering of Industrial DIN-Rail PCs with certifications necessary for safe operation and rugged use in demanding plant environments. AIS Industrial DIN-Rail systems are reliable, high performance computing platforms with operating specifications to withstand extreme plant environment factors such as temperature, vibration and shock. The new DIN-Rail PC Based control and monitoring solutions from AIS carry IECEx, ATEX and UL Safety Certifications for Hazardous Division 2 and Zone Areas in remote plants and industrial manufacturing facilities and factories.



AIS Offers Powerful Intelligent Computing & Communication Solutions with DIN-Rail Design for Application Flexibility, Durability & Safety

AIS incorporated their popular open architecture design and rugged industrial computing platform to develop a new IPC packaged in a common DIN Rail format. Typically made of cold rolled carbon steel sheet with a zinc-plated and chromate bright surface finish, DIN rail is a metal of a standard type widely used for mounting control equipment inside equipment racks. It now gives end-users the freedom to specify AIS DIN-Rail Automation Controllers to fit in their current control cabinet and installation scheme. While saving time and space, it also provides a central location where external and internal wiring can be connected quickly and efficiently.



Fanless, Embedded PC-based DIN-Rail Systems from AIS Deliver Greater Longevity, Reliability and Safety for Remote Plant Locations

Available in Windows Embedded and Linux operating systems, AIS PC-Based DIN-Rail Embedded Computers are equipped with Intel® Atom™ multi-core processors or Quad-Core Celeron® N2930 Processors. Robust and power efficient in a DIN-Rail package design, AIS IPCs offer the perfect balance of compact size, advanced features, low power consumption and affordability. Its fan-less design extends Mean-Time-To-Repair (MTTR) for reduced maintenance, reliable performance and long-term service.



With extended environmental and operating capabilities (-20° to +60°C), AIS's DIN-Rail IPCs are suitable for climatically challenging environments requiring safety codes requirements. From power plant automation, facility monitoring systems and intelligent transportation systems, to ground-mount PV, flat roof-mounted, greenhouse monitoring and environmental facility management, AIS's new DIN-Rail Mounted IPCs are replacing many traditional PLC-based systems. The new industrial DIN-Rail IPCs from AIS are also an excellent communication gateway for converting communication protocols, I/O control and data storage in industrial applications.



AIS IPC and DIN Rail Control & Monitoring Systems Adhere to Key Safety Standards & Certifications for Challenging and Hazardous Area Locations (HAZLOC)

Classification of hazardous locations and the certification of equipment to be used in these environments determine equipment suitability. They consist of Classes, Divisions, Groups and/or Zones and are designed to provide a way to assess the conditions of a given location, ensure equipment meets minimum standards, and easily match equipment and operational procedures to these conditions properly for safe operation. A hazardous location (HAZLOC) is defined as a place where concentrations of flammable gases, vapors, or dusts occur. When electrical equipment is used in, around, or near an atmosphere that has flammable gases or vapors, flammable liquids, combustible dusts, ignitable fibers or flyings, there is always a possibility or risk that a fire or explosion might occur. The Class/Division system is used predominately in the United States. The ATEX directive consists of two EU directives describing what equipment and work environment is allowed in an environment with an explosive atmosphere. AIS DIN-Rail Fanless Embedded Systems meet key IECEx, ATEX, and UL Safety Certifications including Hazardous Division 2 and Zone Areas described above.



About AIS

Headquartered in Irvine, California, USA, American Industrial Systems, Inc. (AIS) offers in-house electronic and mechanical design, software development, manufacturing, production and quality control services. Offering one of the widest ranges of industrial computing solutions, AIS open platform control and monitoring solutions are available in a multitude of configurations for industrial, building automation, oil & gas, military and marine applications. The company's HMI solutions are key enabling technologies for the Internet of Things (IoT), Industrial Internet of Things, (IIoT), Machine-to-Machine Communications (M2M) and Industry 4.0 applications. AIS is fully committed to empowering, improving and delivering turnkey HMI, control, monitoring and display solutions for OEM, ODM and end-user customers. AIS is an ISO 9001:2008 certified supplier and manufacturer of rugged computers and displays, and received completion of the International Traffic in Arms Regulations (ITAR) registration from the Directorate of Defense Trade Controls (DDTC). For more information, visit: www.aispro.com, email: sales@aispro.com or contact: 1-888-485-6688.



Media Relations Contact:

American Industrial Systems, Inc.

David G. Martorana

Director Marketing & Communications

1.847.630.6487 

dynmarent@gmail.com

More from Electronic Components & Devices