Dimmable LED Luminaires are optimized for wall wash applications.
Press Release Summary: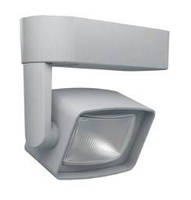 Mounted with track, canopy, c-clamp, and busway, Murro High Power LED Wall Washers provide 2-to-1 fixture/wall spacing ratio that optimizes light generation to minimize fixture quantity requirements. Lens and textured reflector provide even, intense washes of light. Using 47 W while operating on 120–277 volt systems, passively cooled luminaires feature lockable vertical 0° to 90° tilt and 360° rotation. Available CCTs are 2700K, 3000K, and 3500K, and CRIs are 97 and 83.
---
Original Press Release:
Amerlux Presents New Murro High Power LED Wall Wash; Delivers More Light on Walls with Unique Optics
Small is Really Big right now.

OAKLAND, N.J. -- Updated and improved with Next Generation high-powered LEDs, Amerlux unveils Murro High Power LED Wall Washers, which are engineered to fulfill specification demands of smaller, less "heat sink" styled fixtures. The compact, passively cooled Murro LED wall wash commands attention from a diminutive, shallow form factor.

Amerlux presents new Murro High Power LED Wall Wash; delivers more light on walls with unique optics
"Upgraded with Next Generation LED technology, Murro LED is a top performer with a 2-to-1 fixture/wall spacing ratio that generates more light on the wall with fewer fixtures," said Amerlux CEO/President Chuck Campagna. "This diminutive wall washer delivers significant lighting coverage and robust illumination that is more efficient, dims better and adheres to a clean aesthetic."

Murro HP LED is a track-mounted fixture that washes the wall while packing a surprising punch exceeding 4,200 lumens with an efficacy at 92 lumens per watt. Precision engineered for thermal and optical performance, this fixture delivers complete coverage with crisp white LED technology.

"This LED luminaire is optically perfected for high-level wall washing in retail, hospitality and commercial and settings," continues Mr. Campagna. "Engineered with precision optics and spacing, this innovation delivers more light on the wall than industry counterparts and will set benchmarks for coverage, quality and control."

Murro LED delivers high-performance with a custom-configured, textured reflector and specially designed lens that provide even, intense washes of light, to fit any energy or budget requirement. The luminaire, which uses 47 watts while operating on 120-277 volt systems, features a lockable vertical 0 to 90-degree tilt and 360-degree rotation, for precise aiming. Electronic Low Voltage (ELV) and Triac dimming are standard to meet energy code requirements. Available in  2700K, 3000K and 3500K, Murro LED offers fixtures in 3000K and 3500K with a very high CRI of 97, as well 2700K, 3000K and 3500K with an 83 CRI.

Last year's Winner of the NGL Competition for Outstanding Indoor Lighting Product for Efficacy, judges commended Murro for "very high efficacy, nice aesthetic appearance, unique design, impressive dimming performance and good color quality." Murro also received the Edison Report LightTrades Award, presented for best lighting products launched at trade shows and conferences.

Murro LED fixtures can be mounted with track, canopy, c-clamp and busway. White Texture, Black Texture and Silver Texture finishes are standard, but custom color options include over 200 durable powder coat painted finishes. Accessories consist of snoot, linear spread lens, hexcell louver and cross blade.

"Small in size, high in output, Murro outperforms others time after time," Mr. Campagna said. "With unique optics, and code-ready dimmability, Murro reduces your costs dramatically. It's a light so powerful, your walls will pop and never look better."

About Amerlux LLC
Combining Passion, Power and Performance, Amerlux creates lighting designed around its customers and will stop at nothing to help realize their vision. Amerlux works closely with customers every step of the way, from design through construction, to ensure total success and total satisfaction. Amerlux is fueled by a passion to consistently deliver in a fraction of the time of competitors, even on short-run custom orders, and that includes making sure every order is accurate, every product performs flawlessly, and every customer is successful.

Amerlux speaks the language of light for design and construction professionals around the world by manufacturing a broad array of optically superior, energy efficient lighting solutions for the retail, supermarket, hospitality, commercial and exterior lighting markets. Amerlux products and services include track lighting, recessed downlighting and multiples, pendants, linear fluorescents, and custom lighting systems, as well as support for energy reduction plans that can be used as a guide to state, city and local utility rebate programs for maximum energy savings and utility incentives.  The company's domestic and international clients receive the support of Amerlux's highly trained specification sales force, as well as expert service from initial design to on-time delivery made possible by strategically located manufacturing, warehousing and shipping locations.

Contact:
AMERLUX, LLC
178 Bauer Drive
Oakland, New Jersey 07436
www.amerlux.com
mail@amerlux.com
T 973.882.5010
F 973.882.2605
More from Machinery & Machining Tools