Digitizers support 32- and 64-bit Windows 7 OS.
Press Release Summary: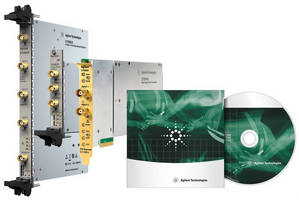 Acqiris Digitizers feature Acqiris Software v4.0, which supplies drivers for Windows®, Linux, LabVIEW RT, and VxWorks OSs as well as application code examples for MATLAB®, C/C++, VisualBasic.NET, LabVIEW, and LabWindows/CVI. Code examples provide card setup and basic acquisition functionality and can be modified, facilitating swap-outs and upgrades. Available as 500 MS/s and 1, 2, 4, and 8 GS/s digitizer cards with 8-, 10-, and 12-bit resolution, formats include PCI, PXI, cPCI, and VME.
---
Original Press Release:

Agilent Announces Windows® 7 Support for Acqiris Digitizer Products



Agilent Technologies Inc. (NYSE: A) today announced Acqiris Software Release 4.0, including support for the 32-bit and 64-bit versions of Windows 7, for its Acqiris Digitizer Products. The software is available today on CD-ROM, or online at www.agilent.com/find/acqiris-software-cd-rom after Dec. 18, 2009.

Agilent Acqiris high-speed digitizers are supplied with software drivers for Windows, Linux, LabVIEW RT and VxWorks operating systems; and application code examples for MATLAB(r), C/C++, VisualBasic.NET, LabVIEW(1), and LabWindows/CVI where available. These code examples provide card setup and basic acquisition functionality, and are easily modified, so that the card can quickly be integrated into a measurement system. The flexibility of the driver means that, with minimum software adjustments, any Acqiris digitizer can be swapped out, replaced, and upgraded over time with the latest Acqiris digitizer technology.

The Acqiris high-speed digitizer product line provides a range of 500 MS/s, 1 GS/s, 2 GS/s, 4 GS/s and 8 GS/s digitizer cards with 8-, 10- and 12-bit resolution, wide bandwidths, and large acquisition memories. These products, in PCI, PXI, cPCI, and VME formats, are used in research, ATE, and OEM applications in industries as widespread as biotechnology, semiconductors, aerospace, physics, and astronomy.

In addition to Windows 7, Acqiris Software Release 4.0 supports the following Windows 64-bit operating systems: XP64 and Vista64. 64-bit Linux (with kernel versions 2.6 and later) is also supported. As a result, users can port code developed in 32-bit environments to the latest operating systems, or develop new applications to take full advantage of the extended resources available, such as acquiring and processing more data within the system.

Additional information about Agilent's Acqiris high-speed digitizers is available at www.agilent.com/find/digitizers. High-resolution images are available at www.agilent.com/find/software_update_digitizers_images.

About Agilent Technologies
Agilent Technologies Inc. (NYSE: A) is the world's premier measurement company and a technology leader in communications, electronics, life sciences, and chemical analysis. The company's 17,000 employees serve customers in more than 110 countries. Agilent had net revenues of $4.5 billion in fiscal year 2009. Information about Agilent is available on the Web at www.agilent.com.

(1) LabVIEW is a product of National Instruments.
Windows is a registered trademark of Microsoft Corporation in the United States and other countries.
MATLAB is a U.S. registered trademark of The MathWorks, Inc.

Contact:
Janet Smith, Americas
+1 970 679 5397
janet_smith@agilent.com

Sarah Calnan, Europe
+44 (118) 927 5101
sarah_calnan@agilent.com

Iris Ng, Asia
+852 31977979
iris-hw_ng@agilent.com

Related