Digitizer is offered with 1 GHz bandwidth.
Press Release Summary: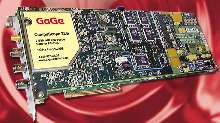 CompuScope 82G-1GHz minimizes distortion of high-frequency components, improving characterization of transients from laser pulses and high-speed electronic signals. While sampling at 2 GS/s, unit allows under-sampling up to Nyquist frequency of continuous periodic signals to extract spectral information. Available for PCI and cPCI/PXI buses, it can be equipped with 2, 8, or 16 MB on-board acquisition memory.
---
Original Press Release:

New 1 GHz bandwidth Option on Gage's CompuScope 82G Digitizer


Montreal, Canada (November 3, 2003) - Responding to growing demand and increasing requirements for data acquisition and synthetic instrumentation, Gage is pleased to announce the release of a version of the CompuScope 82G which features an enhanced 1 GHz bandwidth. The new product is called CompuScope 82G-1GHz and it is priced exactly the same as the standard CompuScope 82G.

With more than 1 GHz bandwidth, the CompuScope 82G widens the precision and range of applications of fast digitizers. "The enhanced bandwidth minimizes the distortion of high frequency components, improving the characterization of very fast transients from laser pulses and high-speed electronic signals," pointed out Dr. Andrew Dawson, Sales Manager at Gage. While sampling at 2 GS/s, the new CompuScope 82G-1GHz allows under-sampling, all the way up to the Nyquist frequency, of continuous periodic signals to extract important spectral information. A better frequency response also enables more reliable I&Q measurements in communication systems.

The new version of this very popular digitizer is available for both the PCI and the cPCI/PXI buses. The CompuScope 82G-1GHz can be equipped with 2, 8 or 16 MB of on-board acquisition memory, and is fully compatible with Gage's famous oscilloscope software, GageScope®, allowing customers to perform their measurements without any programming.

Gage also offers Software Development Kits (SDKs) for C/C++, MATLAB®, LabVIEW®, and LabWindows/CVI, with support for Windows 95/98, NT, XP and Windows 2000.

Availability and Pricing
The CompuScope 82G-1GHz is available immediately with a projected lead time of 3 weeks ARO for small quantity orders. List price for CompuScope 82G-1GHz is US$7,995 for the base memory model. Volume-based discounts are available to qualified OEMs.

For Further Information
For further information, contact Sacha Veillette at 1-514-633-7007, extension 3114, or via e-mail at sacha.veillette@gage-applied.com.

About Gage Applied Technologies, Inc.
Gage Applied Technologies, Inc., a member of the KineticSystems family of companies, is a worldwide industry leader in Test & Measurement, providing instruments and modules for PC-based systems and synthetic instruments built on the PCI, cPCI/PXI and VXI platforms.

Product offerings include a family of multi-MHz Analog Input Cards, Analog Output Cards, Digital Input Cards and Digital Output Cards, as well as the programming-free GageScope oscilloscope software and a vast array of powerful software development kits.

Gage's family of Analog Input Cards consists of the CompuScope line of 8-bit, 14-bit and 16-bit Digitizer Cards for the CompactPCI/PXI Bus with sampling rates up to 5 GS/s and the CompuScope line of 8-bit, 12-bit, 14-bit and 16-bit Digitizer Cards for the PCI Bus with sampling rates up to 5 GS/s and very deep on-board acquisition memory of up to 2 GigaBytes.

Gage's customer focus translates into products that are used across diverse industries such as Communications, Computers, Aerospace, Fundamental Research, and Education. Applications served are Manufacturing Test, Radar (SIGINT), Ultrasonics, Lasers/LIDAR, Spectroscopy, and Automated Test Equipment.

Gage is located minutes away from Montreal's international airport in the suburb of Lachine, Quebec, Canada. Through our sister company in Lockport (Illinois) we have state-of-the-art board assembly capabilities that enable us to deliver top quality products with a very fast turnaround.

Gage sells its products through an independent sales organization in North America, and internationally through an extensive network of qualified distributors.

For more information on Gage Applied Technologies, Inc. or any of its products, contact the company at 2000, 32nd Avenue, Lachine, QC, H8T 3H7, Canada.

Telephone 1-800-567-GAGE
Fax 1-800-780-8411
Web sites at www.gage-applied.com and www.kscorp.com

More from Material Handling & Storage