Pressure Sensors / Detectors / Transducers
Digital Ultra Low Pressure Sensor has fully compensted design.
Press Release Summary: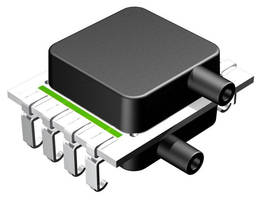 Offered in 0.5, 1, 2, 5, 10, 20, 30, and 60 in. H2O pressure ranges, gage and differential, DLHR Series is available with 0 to +70°C or -20 to +85°C compensated range. All error compensation is performed internally by ASIC; external calculation is not required. Along with Hi-Res digital output signal that incorporates dual die technology, features include  I²C or SPI output interfaces with 16-, 17-, or 18-bit resolution; >0.25% FSS BFSL accuracy; CoBeam2™ Technology; and 1.68–3.6 V operation.
---
Original Press Release:
New High Resolution, Digital Ultra Low Pressure Sensor
All Sensors Corporation of Morgan Hill, California has announced a brand new low pressure sensor, the DLHR Series.

This new devices series offers design engineers superior performance over lower pressure ranges of 0.5 to 60 inH2O, compared to the DLH. The DLHR Series provides higher resolution than any other fully compensated low pressure sensor currently available on the market. Like our industry leading DLV/DLVR, all error compensation is performed internally by an advanced ASIC so no external calculation is required. The DLHR Series is a low pressure sensor with a high resolution digital output signal that incorporates our ultra stable dual die technology.

This offers a fully customizable, turn-key solution for design engineers looking for digital pressure solutions. Product highlights include either I²C or SPI output interfaces with 16/17/18 bit resolution, and better than 0.25% FSS BFSL accuracy. The DLHR Series utilizes All Sensors' proprietary CoBeam2 TM Technology, allowing greater sensitivity while reducing package stress and almost eliminating position sensitivity. With the ability to operate at a low, variable supply voltage from 1.68V to 3.6V, the DLHR Series renders itself a power conscious device, well suited for portable applications. This has further implications that the part can operate directly from a battery with excellent performance.

Devices are available in 0.5, 1, 2, 5, 10, 20, 30 and 60 inH2O pressure ranges, gage and differential.

Package Features
• Miniature package with SIP and DIP lead configurations
• PC board mountable SMT and through hole configurations
• Multiple port options available

Product and Electrical Features
• Digital I²C or SPI interface offered as a standard feature
• 16/17/18 bit options available
• No external components or calculations required
• Low and variable supply voltage from 1.68V to 3.6V
• All Sensors' CoBeam2 TM Technology
• Accuracy better than 0.25% FSS BFSL
• 1% Total error band (maximum)
• Compensated temperature range: 0°C to 70°C or -20°C to 85°C

Applications
Ideal applications for this device are; medical devices associated with low pressure, portable devices, battery operated devices, remote sensing, HVAC applications, spirometry, instrumentation, respiratory machines, and industrial controls.

Price
Contact factory for price. Samples are available for product testing.

For additional information, please visit:
https://www.allsensors.com/products/dlhr-series

Contact Information:
Han Mai - 408 225 4314 tel - hmai@allsensors.com
More from Laboratory and Research Supplies and Equipment