Digital TV Receiver provides optimal in-vehicle reception.
Press Release Summary: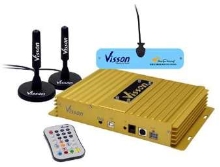 Enabling reception at speeds up to 150 km/hr, Model VI3270T is fully compliant with ITU DVB and Nordig II standards. With properly installed, dual opposite-directed antennas, unit's digital RF cores inter-compensate for unequaled reception. Set-top box measures 250 x 168 x 38 mm, and is fitted with anti-shock, anti-violation, and car-break video-shutoff functions.
---
Original Press Release:

Visson's VI3270T at COMPUTEX, Following a Positive Response From European Communities at CEBIT Hannover


COMPUTEX, Taipei (Taiwan) - June 1, 2005 - Visson Technologies' groundbreaking VI3270T digital TV Receiver for automotive markets is currently on display at COMPUTEX Taipei 2005, following the introduction of this product at the recent CES, CeBIT and Car+Sound shows. The diverse VI3270T is ideally suited for vehicle conditions requiring high performance DTV, and its dual modulator/tuner functions enable excellent reception at high-speeds up to 150km/hour.

A demo of the VI3270T Mobile DVB-T solution can be viewed at the COMPUTEX Show in Taipei, Taiwan (May 31 - June 4, 2005), in Suite 1334 of the Grand Hyatt Hotel.

"Solid, stable pictures... Top quality mobile viewing..."

A recent issue of Land Mobile Magazine, UK, describes Visson's VI3270T receiver as follows:

"Digital terrestrial TV is currently being introduced in Germany, with optimization for portable reception. This DVB-T receiver, from a range shown by Visson Technologies of Taiwan, is designed to provide top quality mobile viewing by the inclusion of dual RF diversity and an anti-doppler enhancement. In the exhibition hall it provided solid, stable pictures, while a more basic receiver nearby showed frequent freezing and breakup." - Land Mobile Magazine, UK - April 2005 issue

"We are entering a new era in worldwide digital TV, with confirmed standards like DVB, ATSC, ISDB in Europe, the Americas, Asia and others, and this poses a new challenge to manufacturers, to come up with DTV solutions taking into account a multitude of worldwide DTV trends," Sherry Tsai, Vice-President of Sales & Marketing for Visson, mentioned today. "Our long-term goal is to provide solutions compliant with all these standards, and furthermore we are presently a R&D collaborator for a new proposed DMB-T standard in China. At the recent CeBIT show in Europe, the response was very positive for our VI3270T receiver, and I can assure you it will be worth your time to observe our VI3270T and VI1031T products in the second half of 2005," Sherry further mentioned.

Doppler compensation - Unequaled DTV Reception
Visson designed their diverse VI3270T DVB-T receiver for optimal in-vehicle DTV reception, and to be fully compliant with ITU DVB and Nordig II standards. With properly installed dual opposite-directed antennas, the VI3270's digital RF cores inter-compensate, providing unequaled reception ability. The set-top box comes in a compact and lightweight size (250 x 168 x 38 mm / 1.3kg), and is fitted with anti-shock, anti-violation and car-break video-shutoff functions.

About Visson Technologies
Visson Technologies, Inc., a member of the VIA Technologies Group, specializes in the design and manufacturing of digital TV and multimedia consumer products, with its main focus on digital television receivers for home entertainment, mobile and handheld products. Our aim is to design digital TV receivers compliant with global digital TV standards, including DVB-T, DVB-H, ATSC and ISDB. Further to its digital TV solutions, Visson diversifies across a wide spectrum of cutting edge technologies, including navigation systems and car PC's, and integrating these with their range of DTV receivers.

For more information contact:
Visson Technologies, Inc.
2F, 529-1 Chung-Cheng Rd., Hsin-Tien, Taipei 231, Taiwan
+886 (0)2 2218-8010 +886 (0)2 2218-8020 (Fax)
http://visson.com.tw/
General enquiries: vissoninfo@via.com.tw

Pieter du Toit, Marketing Manager
PieterduToit@via.com.tw

Tony Lee, Sales Manager
TonylLee@via.com.tw

More from Electronic Components & Devices