Digital-to-Synchro Converters drive torque receiver synchros.
Press Release Summary: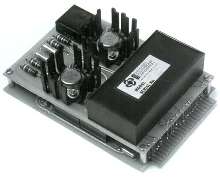 Miniature converter modules provide up to 3 VA power output and ±6 min accuracy. Measuring 2.6 x 3.1 x 1.0 in., units accept 14-bit natural binary angle and convert it into 3-wire synchro or 4-wire resolver signal. Output is short circuit protected, and ±15 V and +5 Vdc power supplies are required. Standard output voltages are 90 or 11.8 V rms L-L, 60 or 400 Hz. Digital inputs are TTL/DTL compatible, and synchro output and reference is fully transformer isolated.
---
Original Press Release:
New Miniature 14-Bit Digital to Synchro Converter Module Can Drive Torque Receivers

Computer Conversions Corporation has introduced a series of miniature 14-bit digital-to-synchro converter modules that can drive torque receiver synchros. The new devices are the smallest of their type to provide up to 3VA power output and ±6 minute accuracy when driving this heavy a load (size 11 TR).

The 2.6" x 3.1" x 1.0"H units will accept a 14-bit natural binary angle and convert it into a 3-wire synchro or 4-wire resolver signal. The output is short circuit protected and only ±15V and +5V DC power supplies are required. Standard output voltages are 90 or 11.8V RMS L-L, 60 or 400Hz. Digital inputs are TTL/DTL compatible and the synchro output and reference is fully transformer isolated.

Part No. DSC40-L-3 requires a 26V reference and +15V at 200ma, -15V at 150ma and +5V at 50ma. Operating temperature ranges are 0°C to 70°C or -55°C to +85°C.

Prices in reasonable production quantities are less than $450.00 each. Delivery is 4-6 weeks after receipt of order. Computer Conversions Corporation is located at:

6 Dunton Court

E. Northport, NY 11731

Phone: 631-261-3300 Fax: 631-261-3308

E-Mail: sales@computerconversions.com

Web site: www.computerconversions.com
More from Architectural & Civil Engineering Products