Digital Skinfold Caliper provides jaw opening of 120 mm.
Press Release Summary: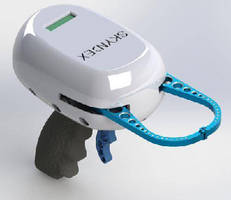 With CNC-machined aluminum calipers, SKYNDEX Pro120 provides wireless measurements with .1 mm accuracy. Jaws open horizontally to allow for ergonomic skinfold site measurement. Calipers have constant and consistent jaw pressure of 8.25g/mm(2) throughout full range of 120 mm and are designed for both left- and right-handed users. SKYNDEX Pro120 comes with iOS app that automatically records skinfold site measurements and calculates both body fat percentage and fat free mass.
---
Original Press Release:

SKYNDEX(TM) Announces New Bluetooth Wireless Pro120 Skinfold Caliper



ORLANDO, Fla. -- SKYNDEX(TM), the leading provider of digital skinfold calipers since 1982, has developed a new wireless digital skinfold caliper, the SKYNDEX Pro120. The CNC (computer numerical control)-machined aluminum calipers boast the industry's largest jaw opening of 120mm and an accuracy of. 1mm. Jaws open horizontally to allow for easier and more ergonomic skinfold site measurement. The calipers have a constant and consistent jaw pressure of 8.25g/mm(2) throughout the full range of 120mm and are designed for both left- and right-handed users.



When compared with other metal skinfold calipers on the market, the new SKYNDEX Pro120 maintained its linear jaw opening at smaller and more precise measurements  -- 8.25g/mm(2) to 100mm and more -- than similar products. Additional skinfold equations for larger skinfold thicknesses will be developed using the patent-pending SKYNDEX Pro120 device, ultimately allowing for accurate measurements of higher body fat subjects.



The SKYNDEX Pro120 comes with an iOS app that automatically records the skinfold site measurements and calculates both the body fat percentage and fat free mass. An optional Bluetooth Weight Scale communicates with the app and provides a fast, easy and highly accurate body composition measurement system. The app can print a professional custom report that includes skinfold site readings, body weight, body fat percentage and client information based on American College of Sports Medicine guidelines. Reports can be emailed to the client directly from the iOS app, which also features trending, filtering and group reporting capabilities to help manage client contact and communication.



The new Pro120 calipers and accompanying iOS app will be available in early summer. An Android app is planned for release this fall. SKYNDEX will begin accepting orders on June 15, 2014 through SKYNDEX.com, the SKYNDEX catalog and existing distributors. The entire system will be priced at approximately $1,495.



About SKYNDEX(TM)

SKYNDEX(TM) has been the leader and industry standard for electronic skinfold assessment since 1982. Research has consistently shown that SKYNDEX offers one of the most reliable product designs as well as the fastest methods for measuring and calculating body fat percentage. SKYNDEX calipers are manufactured and distributed by WELLTEC, a full-service OEM, ODM and CM of wearable technology solutions for leading sports and fitness companies and an exclusive partner of IDT International. For more information on becoming a SKYNDEX distributor, research using the SKYNDEX Pro120 device, or product information about the calipers, please email info@SKYNDEX.com, call 855-759-6339 or visit www.SKYNDEX.com.



Contact: 

Jeff Collins, CEO

SKYNDEX

855-759-6339

More from Material Handling & Storage