Digital Signage Solution animates static advertising.
Press Release Summary: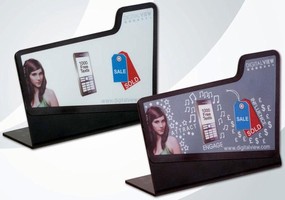 ActivPrint(TM) uses specific design techniques, along with programmable e-paper technology and animation, to turn static advertising into animated displays. Available in any shape and with up to 10 animation steps, displays operates up to one year on 2 AA batteries and can be used on shelves or integrated into any type of advertising solution. Flexible positioning options and animation help capture audience attention, build brand awareness, and raise sales.
---
Original Press Release:

Digital View Introduces ActivPrint(TM), the Future of Print for Digital Signage



Turns static printed advertising into lively animated displays

Morgan Hill, CA, March 17, 2008 - Digital View, a world leader in the supply of display electronics products for video promotion and digital signage solutions, has introduced ActivPrint(TM), a new technology that turns static advertising into eye-catching animated displays.

ActivPrint uses programmable e-paper technology and animation combined with the latest design techniques to bring advertising materials to life - in any shape, and with up to ten animation steps - creating a high-resolution, flexible and cost-effective advertising display. It can be used on shelves or integrated into any type of advertising solution. ActivPrint animations are simple, eye catching and effective. These displays can be positioned anywhere around an environment to truly captivate an audience, build brand awareness and raise sales.

"If a client is not quite ready for video, and print just isn't good enough, now there's ActivPrint," said Dusty Perryman, Director of Sales, Media Products. "It can handle standard or custom shapes, operates up to a year on two AA batteries, consumes hardly any power, and turns static advertising into a high-resolution animated display that really enhances your message."

ActivPrint uses black (negatively charged) and white (positively charged) pigment microcapsules. When an electric current runs through it, positive or negative current can be used to control which different color microcapsules are brought to the surface. This has the effect of "turning on" positively charged white microcapsules and making the image visible or, by turning on the black, negatively charged microcapsules, making the image invisible (in effect, "hiding" it).

Digital View's design team can create customer designs from scratch and, after initial consultation, produce eye-catching solutions that use the technology to its best effect. Where existing design concepts are to be used, the Digital View team will verify the design and, if necessary, suggest any alterations for submission that are necessary to make it compatible with ActivPrint technology.

Cost is calculated using a number of factors - design work, size of display, etc. For more information, please visit www.ActivPrint.tv. Or contact Dusty Perryman at Digital View, Inc., (408) 782 7773; dustyperryman@digitalview.com.

About Digital View: www.digitalview.com
Established in 1995, Digital View Group is one of the world's foremost suppliers of advanced interface solutions for the LCD display market and a world leader in the supply of retail video promotion and digital signage solutions. The company also develops display electronics products and services used in demanding specialized OEM applications. Digital View has sales offices worldwide in Morgan Hill, CA; London, England; and Hong Kong.

Reader Service Inquiries: Please e-mail to Michael Robertson at ussales@digitalview.com or mail to Digital View, Inc., 18440 Technology Drive, Building 130, Morgan Hill, CA 95037, USA. Attn: Michael Robertson.

More from Cleaning Products & Equipment