Digital Signage Player relays true HD quality.
Press Release Summary: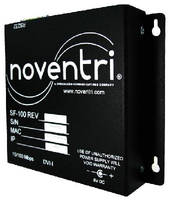 Able to bring Hi-Res images up to 1,920 x 1,200 directly to digital signs, SF-100(TM) suits companies planning installation of multiple screens or digital signage networks. It resides on posterior of digital signage screens and contains chip that allows for HD images to be sent to display through SCODEC(TM). Featuring VGA and DVI output options, solution is powered by Noventri Designer(TM) and Manager(TM) software, which allow real-time editing/changing, rendering, and control of content.
---
Original Press Release:

Noventri Announces the Release of New Digital Signage Solution - the Small, but Powerful SF-100(TM)



Noventri has taken product diversification up a notch with the addition of the SF-100 to its line of digital signage solutions. This compact unit features DVI resolutions of up to 1920x1200 for a true HD experience!

The SF-100 is the result of an ongoing effort to develop a low-cost VGA Extender. Previously, Noventri used VGA extenders to push digital signage content to monitors over CAT5 within a network. This resulted in degradation of images or lack of high-quality HD. Rather than using extenders Noventri's Research and Development Department developed the SF-100, which simply brings high-resolution images directly to the digital signs.

The SF-100 is a small digital signage player that resides on the posterior of digital signage screens and contains a chip designed by Noventri that allows for HD images to be sent to the display through Noventri's proprietary codec, SCODEC(TM).

"We spent a lot of time developing a player that was low-cost enough to have a player for each screen when planning a large deployment," states Andrew Hoffman, VP at Noventri. "With the SF-100 you get to maximize your quality. This product creates a wedge in the industry since it lends itself to many 'simple signage' deployments or 'all-in-one' solutions due to its size and cost."

The SF-100 is powered by Noventri Designer (TM) and Manager(TM) software to allow real time editing/changing and rendering of content. Each unit weighs just half a pound and is designed to easily mount on new and existing flat panel displays.

The SF-100 features include:
o Text Creation: Full text control (font, color, size), broadcast quality anti-aliased text, external data source text, and automatic text generation from data source.
o Scheduling: Manual with easy-to-use calendar interface or automatic scheduling from data source.
o Multi-Region Display: Unlimited regions, each region is independent, 4:3 and 16:9 creation and output support, including portrait format.
o Clock: Digital clock display in multiple formatting options, clock is updated with atomic accuracy via the Internet.
o Network Control: Manage multiple players using Noventri Manager(TM) software. Can be set up for LAN and TCP/IP Internet connections for remote management and firmware updates.
o Solid State Design: No moving parts, virtually no maintenance.
o External Data Sources: Link from a text file and any ODBC compliant data source, set conditional statements to pre-format external data, compatible with Newmarket's Delphi and other hotel management software.
o Logging: Each page is logged to a standard text file.
o Output Options: VGA and DVI
o Native Resolutions: Supports 640 x 480, 800 x 600, 1024 x 768, 1280 x 720, 1280 x 768,1280 x 1024, 1360 x 768, 1366 768, 1440 900, 1600 x 1200, 1920 1080, and 1920 x 1200; native resolution is automatically detected by each unit.

The SF-100 is the ideal low-cost solution for companies planning installation of multiple screens or digital signage networks.

For more information about the SF-100 or Noventri Digital Signage Solutions, contact Judy L. Hoffman, Public Relations & Marketing at 1-800-359-1858, ext 211 or email at: judyh@noventri.com.

Noventri- a Division of Specialized Communications Corp. Noventri has been a leader in manufacturing, sales, service, and installation of Dynamic Digital Signage since 2004 and its parent company, Specialized Communications Corp., has served the broadcast and professional video industry since 1985. David Linetsky is President, Andrew Hoffman, Vice President and Wil Conklin, Director of Sales and Marketing. Noventri is located at: 20940 Twin Springs Dr., Smithsburg, MD 21783-1510. URL: www.noventri.com

More from Communication Systems & Equipment