Digital Signage Player (4K) features hardware EDID emulation.
Press Release Summary: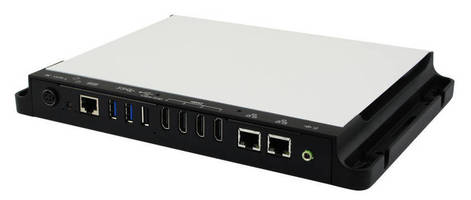 Powered by Second Generation Embedded R-Series APU with Radeon™ HD 9000 graphics, 269 x 193 x 29.5 mm SI-304 provides 4 HDMI outputs and supports up to 4,096 x 2,160, 4K resolution for every display channel. Capabilities suit 2 x 2 video walls as well as menu boards and electronic displays that convey dynamic information and targeted promotions. I/O connectivity and expansion options are standard, and segregated ventilation keeps contaminants out while also enhancing system stability.
---
Original Press Release:

IBASE SI-304 Robust 4x 4K Digital Signage Player with Hardware EDID Emulation Function



Taipei – IBASE Technology Inc. (TPEx: 8050), a leading manufacturer of industrial computers and digital signage systems, is glad to launch its SI-304 four (4) HDMI output digital signage player supporting up to 4096 x 2160 4K resolution for every display channel. SI-304 is not only ideal for 2x2 video walls, but also suitable for menu boards in restaurants, as well as in electronic displays in banks, airports and shopping malls, to convey dynamic information and targeted promotions.



SI-304 is powered by a 2nd Generation Embedded R-Series accelerated processing unit (APU) with Radeon™ HD 9000 graphics to deliver breakthrough graphics performance and power efficiency. It has rich I/O connectivity with 2x USB 3.0, 1x USB 2.0, and 3x RJ45 for 2x Gigabit LAN and 1x RS232, with expansion features via 2x mPCIe and 1x UIM/SIM card slot for WiFi, Bluetooth or 3G/LTE functions. In addition, the player is built with hardware EDID emulation, a feature that allows system setup with a variety of screen configuration, power and signals, to troubleshoot itself without the need of resetting the unit when there is a problem.



SI-304 is designed with a segregated ventilation to keep contaminants out and enhance system stability. It also supports Eyefinity™ Technology that allows users to easily configure multiple display configurations. Measuring 269mm by 193mm by 29.5mm, this compact player is available with DDR3 SO-DIMM 2133 memory of up to 32GB, M.2 64GB Solid State Drive (SSD), and a 150W power adaptor. For more information, please contact an IBASE sales representative, or visit our website – www.ibase.com.tw.



SI-304 FEATURES:

• iSMART 3.2 for Power on/off scheduling, power resume functions, low temperature guardian and intelligent OS recovery

• 2nd Generation Embedded R-series APU (Codenamed: "Bald Eagle"), up to 35W

• Radeon™ HD 9000 series GPU

• 4x HDMI with Max. 4096 x 2160 4K resolution per display output

• 4x Independent audio output & built-in HW EDID emulation function

• 2x DDR3-2133 SO-DIMM, dual channel, Max. 32GB

• Dual Mini PCI-E(x1) slots for Wi-Fi, Bluetooth, 3G/LTE or TV tuner options

• Segregated flow ventilation design



About IBASE Technology

Founded in 2000, IBASE Technology (TPEx: 8050) is an ISO 9001, ISO 13485 and ISO 14001 certified company that specializes in the design and manufacturing of industrial PC products. IBASE provides OEM/ODM services tailoring products to customers' requirements. Current product offerings from IBASE include single board computers, Mini-ITX boards, Disk-Size SBC, COM Express CPU modules, embedded systems, panel computers and network appliance for various applications in the automation, digital signage, gaming, entertainment, medical, in-vehicle and networking markets. IBASE is committed to delivering innovative, practical and dependable solutions for an ever-evolving industrial computing landscape. For more information, please visit www.ibase.com.tw.



Contact Information:

IBASE Technology Inc.

11F, No. 3-1, Yuan Qu St.

Nankang, Taipei

Taiwan, R.O.C. (Nankang Software Park)

Tel: 886-2-26557588    

Fax: 886-2-26557388

Email: sales@ibase.com.tw

www.ibase.com.tw

More from Software