Position Sensors / Detectors / Transducers
Digital Quartz Rate Sensor exhibits under 0.05% linearity.
Press Release Summary: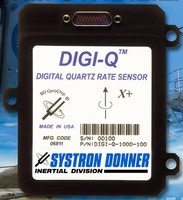 Utilizing quartz MEMS technology, DIGI-Q(TM) offers single-axis, digital rate channel sensor solution that exhibits low noise, shock survivability, and bias stability over -54 to +71°C range. Sensor is suited for platform stabilization applications and utilizes Digital Signal Processing technology. Along with on-board microprocessor that compensates for errors, features include RS-232 or RS-422 compatible digital output and full scale range of ±1000º/sec.
---
Original Press Release:

DIGI-Q(TM) Offers New Digital Rate Sensor



Solution to Inertial and Stabilized System Designers

Walnut Creek, Calif. - August 30, 2006 - Systron Donner Inertial Division (SDID), a operating division of Custom Sensors & Technologies (CST), introduces DIGI-Q(TM), a new compact Digital Quartz Rate Sensor featuring low noise, increased shock survivability, and excellent bias stability over temperature. The DIGI-Q offers a single-axis, digital rate channel sensor solution to the system designer. It utilizes Systron Donner's proven quartz MEMS technology and rivals the performance of Fiber Optic Gyro (FOG) devices traditionally used in medium performance inertial applications. DIGI-Q is ideally suited for Platform Stabilization, Land vehicle Navigation Systems, Aerospace AHRS and Flight Control Systems, Industrial Robotics and Autonomous Systems, Motion Sensing, Precision Aiming and Pointing, and a variety of other specialty applications.

The unit's Digital Signal Processing (DSP) technology offers significant improvement in bias performance over temperature, as well as improved noise, scale factor, scale factor linearity and vibration rectification performance. An on-board microprocessor compensates for errors, providing IMU-level gyro accuracies. DIGI-Q features include a standard full scale range of ±1000º/second, bias over temperature of <10 degrees/hour, bias in-run stability of 3 degrees/hour, rate noise of 0.05 deg/rt-hr, <0.05% linearity (full range), input power is 12 to 15Vdc, at <5W, small footprint (2.5 x 3.25 x 0.96 inch high), light weight (less than 0.5 lbs), and an RS-232 or RS-422 compatible digital output. Other robust performance specifications include an operating temperature of -54° to +71°C (Storage -54° to +85°C), operating vibration of 12 g rms for performance and 19 g rms for endurance, and shock rating to 150g (1/2sine@11msec).

Adam Bridge, Product Marketing Manager, stated, "We are very excited to introduce such a versatile, precision gyro." He further cited, "The DIGI-Q offers system designers the first cost effective MEMS gyro solution for the most demanding mid performance system applications."

For further information and specifications on the DIGI-Q, or for information on the complete SDID product line, contact Systron Donner Inertial Division, 355 Lennon Lane, Walnut Creek, CA 94598-2418; Tel: (925) 979-4512; Fax: (925) 979-9827; E-mail; [email protected]. Web: www.systron.com.

About Systron Donner Inertial Division
Systron Donner Inertial Division (SDID) is an operation of Custom Sensors & Technologies (CST). SDID is a world leader in quartz MEMS inertial sensors and systems. SDID's high performance products include rate sensors, multi-axis systems, IMUs and INS/GPS systems. CST is a division of Schneider Electric. CST was formed from the combination of BEI Technologies, Kavlico and Crouzet. CST provides sensors, controls and actuation products to the industrial, transportation and military/aerospace markets.

About Schneider Electric
Schneider Electric is the world's power and control specialist. Through its world-class brands, Merlin Gerin, Square D and Telemecanique, Schneider Electric anticipates and satisfies its customers' requirements in the residential, building, industry and energy and infrastructure markets. With 88,670 employees and operations in 130 countries, Schneider Electric generated sales of 11.7 billion in 2005 through 13,000 distributor outlets. www.schneider-electric.com.

Schneider Electric:
Giving the best of the New Electric World
To everyone, everywhere, at any time