Digital Potentiometer has 50/100 k ohm end-to-end resistance.
Press Release Summary: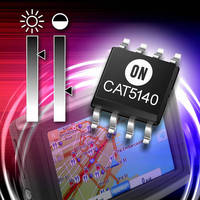 Featuring on-chip, 8-bit, non-volatile EEPROM memory, 256-tap, single-channel linear-taper device CAT5140 can store 2,000,000 data writes, and retain it for 100 yr. It has standby current of 2 µA (max), as well as 400 kHz, I2C-compatible interface for LCD screen adjustment; automated calibration; contrast, brightness, and volume control; and gain adjustment and line impedance matching applications. Packaged in Pb-free, RoHS-compliant 8-lead MSOP, product requires 2.5-5.5 V of power supply.
---
Original Press Release:

ON Semiconductor Introduces 256-Tap Digital Potentiometer with I2C Interface and Integrated EEPROM



CAT5140: Digitally Programmable Potentiometer (DPP(TM)) with 50 kW and 100 kW end-to-end resistance

Phoenix, Ariz. - May 14, 2009 - ON Semiconductor (Nasdaq: ONNN), a leading global supplier of high performance, energy efficient, silicon solutions has added a new 256-tap, single-channel linear-taper device to its extensive family of Digitally Programmable Potentiometers (DPP(TM)). The CAT5140 digital potentiometer is a low-noise, reliable and space-saving alternative to DACs and mechanical potentiometers. It features an on-chip, 8-bit, non-volatile EEPROM memory, which allows designers to calibrate once and retain the wiper setting in memory on power-up. The new DPP(TM) also provides five additional non-volatile registers for general purpose data storage, as well as a volatile wiper register for applications requiring temporary storage.

The integrated memory options in the CAT5140 save board space and costs compared to DAC-based design approaches, which typically require external memory and additional interconnects. Additionally, the ultra-low standby current (2 micro-amperes max) of the CAT5140, combined with integrated memory, make it ideal for mechanical potentiometer replacement in space-constrained, handheld applications. Since it is digitally programmable, the CAT5140 is insensitive to mechanical vibrations, shock and oxidation, making it much more stable and reliable than mechanical potentiometers across most environmental conditions.

The CAT5140 is a single-channel, linear-taper digital potentiometer with a 400 kilohertz (kHz), I2C-compatible interface for LCD screen adjustment; automated calibration; contrast, brightness and volume control; gain adjustment and line impedance matching applications. EEPROM endurance for the CAT5140 is 2,000,000 data write stores, two times that of competitive devices. Data retention is 100 years, which is two times higher than competitive digital potentiometers.

Features

o 256 position linear taper potentiometer

o Power supply: 2.5 volts (V) to 5.5 V

o 400 kHz I2C-compatible interface

o Resistance values: 50 k ohms, 100 k ohms

o Standby current: 2 µA (max)

o 2,000,000 data write stores

o 100-year data retention

o Packaging: 8-lead MSOP

Packaging and Pricing

The CAT5140 digitally programmable potentiometer comes in a Pb-free, RoHS-compliant 8-lead MSOP package and is priced at $0.60 USD per unit in 10,000 unit quantities. Samples are available now. Projected lead-time for production quantities is currently eight to 12 weeks ARO.

About ON Semiconductor

With its global logistics network and strong product portfolio, ON Semiconductor (Nasdaq: ONNN) is a preferred supplier of high performance, energy efficient, silicon solutions to customers in the power supply, automotive, communication, computer, consumer, medical, industrial, mobile phone, and military/aerospace markets. The company's broad portfolio includes power, analog, DSP, mixed-signal, advance logic, clock management, non-volatile memory and standard component devices. Global corporate headquarters are located in Phoenix, Arizona. The company operates a network of manufacturing facilities, sales offices and design centers in key markets throughout North America, Europe, and the Asia Pacific regions. For more information, visit www.onsemi.com.

Contacts

Anne Spitza

Corporate Communications

ON Semiconductor

(602) 244-6398

anne.spitza@onsemi.com

Tamera Drake

Marketing Communications

ON Semiconductor

001 (208) 234-6890

tamera_drake@amis.com

More from Electronic Components & Devices