Digital Optical Comparator utilizes LED technology..
Press Release Summary: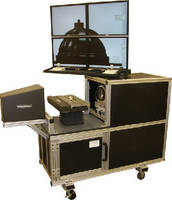 Using high-resolution digital camera and low-distortion telecentric lens, VisionGauge® Digital Optical Comparator captures geometrically exact image of part. VisionGauge® software then projects image, along with part's CAD overlay, onto quad monitor display. Collimated back illumination, using LED technology, produces clear images with sharp edge profiles. Available in both horizontal and vertical configurations, comparator offers magnifications of 5, 10, 20, 50, and 100 X.
---
Original Press Release:

VISIONx Inc. Announces New Overlay-Free Optical Comparator



New System Gets Rid of Pesky Overlays/Template/Mylars(TM)

VISIONx has recently developed its VisionGauge® Digital Optical Comparator (Patent Pending) which completely revolutionizes optical comparators and takes them into the 21st century.

This new instrument uses a very high-resolution digital camera and a very low distortion telecentric lens to capture a very high resolution and geometrically exact image of the part. The VisionGauge® software that is at the heart of this new instrument then projects this image, along with the part's CAD overlay, onto a very high-resolution quad monitor display. This approach produces images with an on-screen resolution better than that of traditional 30" optical comparators.

This new instrument is the ideal tool when you need to compare a part to its CAD drawing. It is appropriate for a wide range of industries including orthopedics, medical device manufacturing, automotive, aerospace, energy, precision mechanical components and assemblies, etc... It is also appropriate for higher magnification and very high accuracy applications such as Micro Electro-Mechanical Systems (MEMS) device manufacturing, electronics, semiconductor, etc...

Like traditional optical comparators, the VisionGauge® Digital Optical Comparator uses collimated back illumination to produce very clear and crisp images with sharp edge profiles. However, while traditional optical comparators typically use halogen bulbs that need to be replaced on a regular basis, the VisionGauge® Digital Optical Comparator uses up-to-date LED technology that provides very stable illumination over a 10 year life. As is the case with traditional optical comparators, front illumination is also available (to carry out surface inspection, for example).

There are two main reasons why the VisionGauge® Digital Optical Comparator is much more accurate than traditional optical comparators. The first has to do with the size of the lens. As with all things manufactured, it is impossible to produce a perfect lens and all lenses have defects and imperfections, to a certain degree. Furthermore, the difficulty in producing a lens increases rapidly with the size of the lens.

Traditional optical comparators need to use very large lenses to project the image of the part onto their 30" screen. The VisionGauge® Digital Optical Comparator, on the other hand, only needs to project the image of the part onto the camera's sensor, which measures slightly less than 1". This lens can be manufactured much more accurately and the raw image that is projected onto the camera sensor of the VisionGauge® Digital Optical Comparator is thus much more geometrically accurate than the image projected onto the 30" screen of a traditional optical comparator.

The VisionGauge® Digital Optical Comparator's digital image can also be saved to disk, either with or without the CAD data overlay and with or without annotations, along with measurements, annotations and other data.

Another significant benefit to this novel approach is the fact that the VisionGauge® Digital Optical Comparator can compare a part to its CAD drawing beyond the optical file of view. With traditional optical comparators, the overlay is fixed on the screen and doesn't move when the stage carrying the part moves. But with the VisionGauge® Digital Optical Comparator, the overlay "tracks the part". This means that if you have a part that is larger than the field of view, you can move the stage to see another portion of the part and the overlay will follow the stage. The CAD drawing moves with the part! Because these systems are completely software-driven, it is possible to automate all of the operations.

The new VisionGauge® Digital Optical Comparator is a very easy-to-use system that is perfectly suited for both the shop floor and the metrology lab. It is available in both horizontal and vertical configurations and with industry-standard 5X, 10X, 20X, 50X and 100X magnifications. The new VisionGauge® Digital Optical Comparator brings optical comparators into the 21st century. It uses advanced technology to offer a better solution to the classic manufacturing problem of ensuring that parts match up with their CAD drawing.

Please visit www.visionxinc.com and digital-optical-comparators.com for more information on the VisionGauge® Digital Optical Comparator.

About VISIONx:

VISIONx, Inc. specializes in automated imaging, visual inspection and high accuracy measurement solutions. They manunfactur and continuously develop software, systems and specialized hardware components for machine vision, image analysis, visual inspection, general defect detection and metrology. Their VisionGauge® products are being applied to successfully solve a broad range of applications in a number of different industries, including: electronics, semiconductors, MicroElectroMechanical Systems (MEMS) manufacturing, printed circuit boards, aeronautics, aerospace & automotive, medical device manufacturing, precision mechanical components/assemblies, packaging, pharmaceutical, and more."

Technical contact:

Patrick Beauchemin, P.Eng. Ph.D.

VISIONx INC.

Tel: 514-694-9290

Email: patrickb@visionxinc.com

More from Software