Digital Multimeters target PCI plug-in applications.
Press Release Summary: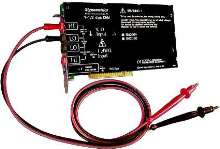 Models SM2060 and SM2064 are 7½ digit multimeters offering measurement rates up to 1,400 and 20,000 readings/sec, respectively. Model SM2064 features 24,000,000 counts dynamic range, translating to resolutions of 10 nV. Model SM2060 provides 4-wire ohm, frequency, timing, and temperature measurements, while Model SM2064 offers 6-wire ohm measurements and adds extended dc current measurement ranges, leakage measurements, and pulse-pattern generator.
---
Original Press Release:
World's First 7-1/2 Digit, Digital Multimeter for PCI Platform, from Signametrics , in Production

Fastest, most accurate PCI, plug-in, 7-1/2 digit, Digital Multimeters, SM2064/ SM2060, offer advanced features, bring new price-performance to instrumentation and test systems integrators and users.

Seattle, WA - January 15th, Signametrics started production of the fastest, most- accurate 7 = digit Digital Multimeters for PCI plug-in applications. Newly available technologies allowed Signametrics engineers to develop and implement new advanced features and superior speed and accuracy, surpassing any existing products in this class.

Signametrics' new 71/2 digit DMMs boast high measurement rates up to 20,000 reading/second and very low current measurement ranges down to 50pA, satisfying the needs of test systems developers in a very wide range of applications such as: Avionics, Automotive, Semiconductors, Storage, Industrial, components and sensor manufacturing, and more.

The SM2064 is a fast, 20,000 readings/s full-featured 7-1/2 digit PCI DMM. It boasts 24,000,000 counts dynamic range, translating to resolutions of 10nV. The SM2064 maximum measurement rate with no latency is specified at 20,000 reading per second making it the fastest PCI DMM.

The SM2064 offers the most advanced functionality in plug-in DMMs, adding more functionality to its predecessors, the SM2044 and the SMX2044 DMMs. In addition to the family's 6-wire Ohm measurement, inductance and capacitance measurements (RLC), Frequency and timing measurements, thermocouple and RTD measurements, and V/I sourcing, the SM2064 adds Extended DC current measurement ranges, Leakage measurements, and pulse/pattern generator. Multiple current sources for resistance measurements give the SM2064 the highest accuracy and resolution available in a DMM today.

"The SM2064 is a super DMM, capable of an extensive repertoire of measurements at high accuracy and astounding speeds," says Tee Sheffer, president of Signametrics Corporation. "The SM2064 and SM2060 bring about a new standard in accuracies, speed, and functionality to plug-in Test and Measurement systems, that is unparalleled even by costly bench-top digital multimeters.

SM2064 and SM2060:

The SM2060, a basic-functionality 7-1/2 digit DMM, provides the same high accuracy at a lower price. The SM2060 shares the SM2064's 24,000,000 count based measurement, and 1,400 reading per second measurement speed. The SM2060 functionality includes 4-wire Ohm, frequency, timing, and temperature measurements.

The SM2064 and the SM2060 share the same "touch and feel" of a bench-top DMM, and are compatible with the existing Signametrics DMM family, facilitating painless upgrade. All Signametrics DMMs are accompanied by "front panel" software, DLLs for all Windows operating systems, and Linux drivers.

A Family of Test and Measurement Plug-in Cards:

Preserving the accuracy of the SM2064 and SM2060 DMMs in a multiple signal system requires high-quality switching modules. Signametrics' switching modules for the PCI, are natural complements to the new SM2064 and SM2060 with their high isolation, and extremely low noise and thermal EMF. The combination of the high-accuracy SM2064/60 with fully isolated extremely low noise SM4042/22 Switching modules make up the foundation for high precision Test and Measurement systems.

Price and Availability

Readily available, the SM2064 is priced at $2,395, and the SM2060 is priced at $1,595.

About Signametrics

Signametrics pioneered the plug-in Digital Multimeter category, and keeps on leading in this market with advanced features, and ever increasing accuracy. Signametrics' current products are dedicated to PCI, PXI, and VXI Test and Measurement systems, and are complemented by "Front-panel" software, DLLs, and Drivers to ensure smooth software installation and integration.

Founded in 1990 by former Fluke engineers, Signametrics is a privately held company with offices in Seattle Washington, USA.
More from Electrical Equipment & Systems