Digital Multimeter operates as DMM and isolated digitizer.
Press Release Summary: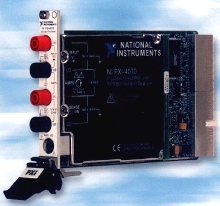 PXI-4070 FlexDMM 6½-digit digital multimeter (DMM) fits in single-slot 3U PXI module. It offers 1.8 MS/s fully isolated digitizer mode, self-calibration, and offset compensated ohms measurement. Able to deliver 6 ppm basic 24-hour DC voltage accuracy and sub µV sensitivity, FlexDMM offers continuously variable DC reading rate from 100 S/s at 6½ digits to 5 kS/s at 4½ digits. NI-DMM driver software works with LabVIEW, LabWindows/CVI, Visual Basic, and Visual C/C++.
---
Original Press Release:

National Instruments 6½-Digit DMM Shatters Traditional DMM Speed Barriers


NI FlexDMM Operates as Full-Featured DMM and 1.8 MS/s Isolated Digitizer

AUSTIN, Texas -- Aug. 14, 2002 -- Engineers can dramatically reduce the time it takes to make accurate measurements with National Instruments PXI-4070 FlexDMM - a full-featured 6½-digit digital multimeter (DMM) in a single-slot 3U PXI module. The FlexDMM delivers the accuracy of a 6½-digit DMM along with the advanced features and throughput of higher resolution DMMs that cost thousands of dollars more. These advanced features include a 1.8 MS/s fully isolated digitizer mode, self-calibration, and offset compensated ohms measurement.

The NI FlexDMM delivers 6 parts per million basic 24-hour DC voltage accuracy and sub µV sensitivity. The FlexDMM offers a continuously variable DC reading rate from 100 S/s at 6½ digits to 5 kS/s at 4½ digits. With NI LabVIEW and NI-DMM driver software, engineers can extend the resolution of the FlexDMM to 7 digits at 5 S/s.

The architectural design of the FlexDMM incorporates a 1.8 MS/s isolated digitizer. In isolated digitizer mode, the FlexDMM can acquire both AC and DC-coupled waveforms up to ± 300 V input, at a maximum sample rate of 1.8 MS/s. By combining NI LabVIEW software with the isolated digitizer mode, the FlexDMM can analyze transients, flyback signals, or other nonrepetitive high-voltage AC waveforms in both the time and frequency domain.

The NI PXI-4070 FlexDMM achieves unprecedented AC measurement speeds by solving a traditionally analog problem of RMS-to-DC conversion in the digital domain. The FlexDMM uses a digital algorithm that automatically rejects the DC component of the signal, making it possible to offer a DC-coupled AC voltage mode that completely bypasses the slow-settling input coupling capacitor required with traditional methods. With this digital approach, the FlexDMM achieves AC measurement reading rates up to 2 kS/s. The FlexDMM inherently improves system integration because the PXI platform combines the high-speed PCI bus with integrated timing and triggering to deliver a more than 10X performance improvement compared to older architectures. The speed, accuracy, and functionality of the FlexDMM make it ideal for demanding automated test and validation applications on the production floor and in the research and development laboratory.

NI-DMM driver software, which ships with the FlexDMM, is optimized for use in LabVIEW, LabWindows/CVI, Visual Basic, and Visual C/C++. With the NI-DMM driver software, engineers can measure thousands of channels, consisting of voltages, thermocouples, and RTDs by seamlessly integrating the FlexDMM with NI's PXI switches, SCXI switches, and NI Switch, Executive switch management software. The currently shipping instrument driver, NI-DMM version 2.0, supports all of the previously described high-performance DMM features of the NI PXI-4070 FlexDMM. Engineers can enable the isolated digitizer feature with a free upgrade to NI-DMM version 2.1 due for release in early 2003.

Expanding the Capabilities of Virtual Instrumentation
The NI PXI-4070 FlexDMM extends the acquisition capabilities of virtual instrumentation to 6½ digits. Virtual instrumentation systems add off-the-shelf mainstream computer technologies to measurement and automation software and modular hardware tools to create powerful computer-based instrumentation solutions. With this approach, engineers can leverage the ever-increasing performance of personal computers to define measurement and automation solutions that meet their specific needs. Engineers can use virtual instrumentation to build powerful applications for increasing productivity and performance throughout the enterprise -- from research to design to the production floor. The phenomenal increase of processing speeds gives virtual instrumentation systems a competitive advantage that other measurements systems cannot claim.

About National Instruments
National Instruments leverages commercial technologies, such as industry-standard computers and the Internet, to deliver customer-defined measurement and automation solutions. Headquartered in Austin, Texas, NI has more than 2,900 employees and direct operations in 37 countries. NI increases the productivity of engineers and scientists worldwide by delivering easy-to-integrate software and modular hardware. In 2001, the company sold products to more than 24,000 different companies in more than 60 countries around the world. For the past three consecutive years, FORTUNE magazine has named NI one of the 100 best companies to work for in America.

Pricing and Contact Information
11500 N Mopac Expwy, Austin, Texas, 78759-3504 or your local NI office
Priced from $1,995; Euros2,595; ¥281,000 Tel: (800) 258-7022, Fax: (512) 683-9300
For more information, visit ni.com/info and enter: nipxi4070
E-mail: [email protected]