Pressure Sensors / Detectors / Transducers
Digital Differential Pressure Sensors consume minimal power.
Press Release Summary: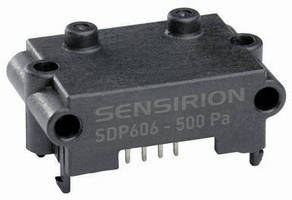 Promoting long-term battery operation, SDP606 and SDP616 enter sleep mode after each measurement and wake upon Measure command. Each operates with currents no greater than 400 µA and consume less than 1 µA in sleep mode. Fully calibrated and temperature compensated, sensors have digital I²C output and use calorimetric flow measurement principle. While SDP606 is intended for direct threaded connection to pressure manifold with O-ring sealing, SDP616 is designed for tube connection.
---
Original Press Release:

New Digital Differential Pressure Sensors with Low Power Consumption



Sensirion recently launched new differential pressure sensors in the SDP600 series. The new SDP6x6 sensor line features especially low energy consumption, making it suitable for long-term battery operation. The SDP606 and SDP616 sensors are designed to enter sleep mode after performing each measurement. They wake up when a "measure" command is received and enter sleep mode again after completing the measurement. The operation currents of a standard SDP600 sensor can be high as 6 mA, but the new SDP6x6 sensor is optimized for operating currents no greater than 400 µA. There is virtually no current drain (<1 µA) in sleep mode.

This drastic reduction in power consumption allows the new sensors to be used in battery powered applications. The new differential pressure sensors are excellent solutions for medical and HVAC applications, where high accuracy and reliability with very low energy consumption are required.

The new sensors extend the comprehensive product range of Sensirion's digital differential pressure sensors in the SDP600 series. Along with the other products in this series, they offer a digital I2C output and are fully calibrated and temperature compensated. Thanks to the principle of calorimetric flow measurement, CMOSens® differential pressure sensors achieve outstanding sensitivity and accuracy even at very low pressure differences (< 10 Pa). Furthermore, they have very high long-term stability and are free from zero-point drift. Like all devices in SDP600 series, the new sensors are available in two different versions. The SDP606 is intended for direct threaded connection to a pressure manifold with O-ring sealing, while the SDP616 is designed for tube connection.

Website: www.sensirion.com/sdp6x0
Datasheet: www.sensirion.com/differential-pressure-sensor-sdp6x0-datasheet

About Sensirion
The Swiss sensor manufacturer Sensirion AG is a leading international supplier of CMOS-based sensor components and systems. Its range of high-quality products includes humidity and temperature sensors, mass flow meters and controllers, gas and liquid flow sensors, and differential pressure sensors. Sensirion supports its international OEM customers with tailor-made sensor system solutions for a wide variety of applications. Among others, they include analytical instruments, con-sumer goods, and applications in the medical technology, automotive and HVAC sectors. Sensirion products are distin-guished by their use of patented CMOSens® technology. This enables customers to benefit from intelligent system integra-tion, including calibration and digital interfaces. Sensirion's competence as a reliable OEM partner is underlined by its quality management system, which was certified in March 2008 in accordance with the ISO/TS 16949 standard.

Contact: www.sensirion.com, info@sensirion.com, Tel. +41 44 306 40 00, Fax +41 44 306 40 30


More from Architectural & Civil Engineering Products