Digital Dialysate Meter features syringe-style design.
Press Release Summary: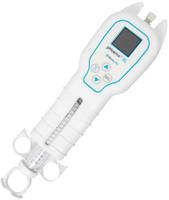 Used for measurement of conductivity, temperature, and pH, handheld pHoenix XL offers calibration guide and one-touch calibration buttons that foster reading accuracy confidence. Syringe-style design allows sample gathering directly from sample port on dialysis machine and eliminates need for pH paper test strips. Alog with auto-ranging capability, features include ability to provide 3 instant readings in one step; ambidextrous, splash-resistant, and rugged design; and 3.6 V Li-ion battery.
---
Original Press Release:

Mesa Labs New pHoenix XL



Mesa Labs is pleased to announce the release of the newly re-designed digital dialysate meter from its DialyGuard product line for nephrology clinicians and technicians, the pHoenix XL. The pHoenix XL is a convenient, hand-held, syringe-style meter for quick and accurate measurement of conductivity, temperature and pH. The easy to follow calibration guide and one-touch calibration buttons give you added assurance that readings are accurate and reliable. The syringe-style design allows for you to gather a sample directly from a sample port on the dialysis machine saving you time.



Advanced Features and Improved User Interface

• Auto-ranging feature automatically selects the proper conductivity range for measurement of various solutions

• Intuitive on-screen menus and calibration process

• Expanded measurement ranges and enhanced resolution for temperature, pH and conductivity

• Eliminates the need for pH paper test strips

• Push-button calibration is fast and easy

• Three instant readings in one easy step saves valuable time

• Ambidextrous design accommodates left and right-handed users

• Extended battery life with new, 3.6V lithium-ion battery

• Replaces RO water meter with extended measurement range

• Can calibrate multiple points using Mesa's 14 mS/cm - 7.0 pH combo solution

• Splash-resistant, rugged design protects the meter from falls and spills



Service and Calibration

• Replacement module eliminates need to send in your meter for service

• Field replaceable module

• Simply order a new, calibrated replacement module, replace, and you are all set!



The pHoenix XL has received 510(k) approval by the FDA and has been designed by Mesa Labs as a direct replacement for the current handheld meters: the current model pHoenix meter, HYDRA Water Quality Meter and the NEO-STAT+. These three meter models will reach End of Life (EOL), with no further purchase orders accepted after June 30, 2016. Service and support for these three models will continue for seven years (pending parts availability) from the EOL date.



Mesa will accept new orders and begin shipping the pHoenix XL on March 1, 2016. Contact customerservice@mesalabs.com or dial (303) 987-8000 to speak with a representative and receive further information on placing your order.



A new modular Super Station, configurable to best fit your counter-space and usage needs, will be available in July.  It will hold the pHoenix XL, solutions and accessories/miscellaneous supplies. Stay tuned for this product announcement!



Mesa Labs looks forward to continuing to serve our loyal customer base and the dialysis industry as a whole. We are excited about the release of the pHoenix XL and the innovation behind the meter. For more information on the new pHoenix XL meter, visit Mesa online today at www.MesaLabs.comPlease contact us with any questions.