Digital Controllers feature VR12/12.5 compliant interface.
Press Release Summary: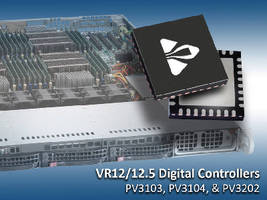 Featuring single and dual phase outputs and supporting both PMBus and Intel's VR12.5 Serial VID bus, Models PV3103, PV3104, and PV3202 provide precision regulation and telemetry to support servers, high-end desktops, and embedded computing systems. RoHS-compliant DC/DC controllers feature 0.6–1.52 V output and programmable frequency from 375 kHz to 1 MHz. Units offer Auto-Control® real-time adaptive loop compensation, programmable fault protection, and configurable phase add/drop.
---
Original Press Release:

Digital Controller Family with VR12/12.5 Compliant Interface



Digitally Programmable DC/DC Controller Solutions for Server and High-End Desktop



Cork, Ireland, and San Jose, CA -- Powervation Ltd. (www.powervation.com), the Intelligent Digital Power™ company, today announced its latest series of digital DC/DC controllers for servers, high-end desktop, and embedded computing systems. The PV3103, PV3104, and PV3202 devices feature single and dual phase outputs and support both PMBus and Intel's VR12.5 Serial VID (SVID) bus. The highly flexible, fully programmable digital controllers provide precision regulation and telemetry to support the latest high efficiency computing system designs.



The PV3202 is Powervation's latest full-featured VR12.5 dual phase digital controller with Auto-Control®, which provides superior transient performance and real-time adaptive loop compensation.  The PV3104 is a single phase controller offered in the standard 5 mm x 5 mm QFN package and is footprint compatible with the PV3202. Completing the family of SVID controllers is Powervation's PV3103, an ultra-small, digital synchronous buck controller in the 4 mm x 4 mm QFN package – PV3103 is ideally suited to high density or compact design needs.



The series features Powervation's unique Auto-Control® adaptive compensation, which is a mode of Powervation's leading xTune™ auto-tuning architecture, which delivers faster transient performance and greatly simplifies the design process and time-to-market. The unique NV memory and RAM architecture allows designers to flexibly configure and store regulator parameters.



"We are very pleased by the strong adoption of our VR12.5 controllers to date in the high performance computing space," commented David New, Powervation's Vice President of Product Marketing.  "This new series of digital SVID controllers provides higher performance and new features, and extends our portfolio of auto-tuning digital controller solutions for low- and mid-power SVID and PMBus applications."



The new controllers are flexibly designed to deliver optimized performance and to interface with most leading MOSFET driver and DrMOS solutions, to power DDR4 memory and other Intel SVID and PMBus loads for server, storage, high performance computing and communications systems. The RoHS compliant devices are available now for sample and production orders.



Summary of Key Features

• Single & Dual Phase Synchronous Buck Controllers

• Auto-Control® Real-Time Adaptive Loop Compensation

• Intel Compliant Serial VID VR12,5 (SVID) Interface

• SMBus Interface with PMBus™ Power System Management Protocol

• ±0.5% VOUT, ±1.5% VIN, & ±3% IOUT Accuracy Over Temperature

• Precision Measurement & Telemetry Reporting (VOUT, IOUT, VIN, EOUT, Temperature, Duty Cycle, and Switching Frequency)

• Programmable Fault Protection (OVP, OCP, SCP, LOS, UVLO, OVLO, OTP)

• Configurable Phase Add/Drop (Automatic or via PS1 Command)

• Single-Pin CONFIG™ with Memory for Eight Profile Tables

• Anti-Fuse Based Non-Volatile Memory (NVM)

• Temperature Compensated Phase Current Sense & Matching

• 0.6 V to 1.52 V Output

• Programmable Frequency 375 kHz to 1 MHz



About Powervation

Powervation (www.powervation.com),  the Intelligent Digital Power™ Company, delivers breakthrough intelligent digital power IC solutions for designers of cloud computing, communications, and high-performance power systems. The company's digital DC/DC controllers, with xTune™ auto-tuning architecture, provide intelligent adaptive compensation, which delivers significant benefits in performance, efficiency, reliability and breakthrough design simplicity. Powervation is a private fabless semiconductor company backed by leading investors - SEP, Intel Capital, VentureTech Alliance, Braemar Energy Ventures, and Semtech Corporation and is headquartered in Cork, Ireland, with facilities in San Jose, California, Taipei, Taiwan, and Shenzhen, China.



For Further Information:

David New

Vice President of Product Marketing

Powervation Inc.

San Jose, CA 95134

Office: +1 408 837 0544

E-mail:

[email protected]