Digital Camera captures images at rates to 1,500 fps.
Press Release Summary: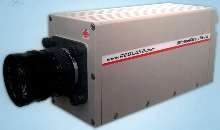 MotionXtra HG-LE, suited for capturing high-speed events on production line, is available in color or monochrome and records 1,500 fps at 752 x 752 resolution. Unit lets users download digital images into computer via Ethernet for slow motion analysis and includes 5 µsec electronic shutter that eliminates motion blur. Set-up is accomplished via MotionCentral(TM) software.
---
Original Press Release:

Redlake's Newest High-Performance High-Speed Camera


SAN DIEGO, CA, March 2004 - Redlake is pleased to announce the addition of the HG-LE high-speed digital camera as the newest member of its MotionXtra family of imaging systems. Built upon the advanced technology of the HG-100K, the HG-LE offers a high-quality, high-performance value solution for capturing high-speed events on the production line. Available in color or monochrome, this camera can record 1500 fps at 752x752 resolution, and even faster rates at reduced resolutions. A 5 micro-second electronic shutter eliminates motion blur. In seconds the HG-LE lets you download outstanding digital images into a computer via Ethernet for slow motion analysis. Use the HG-LE for production line diagnosis, troubleshooting, preventive maintenance, machinery development, equipment set-up and change-over.

As a self-contained camera, the HG-LE is easy to set up and ready to use with a simple installation of MotionCentral(TM) software and an Ethernet connection. Within minutes the HG-LE identifies itself and presents a live image on your camera control screen. Two basic models allow customers to choose either color or monochrome according to their application needs.

Both models come fully configured to meet most simple imaging needs. Redlake also makes available for separate purchase a wide range of companion accessories. For the more advanced and sophisticated user Redlake offers at no additional charge a feature-rich camera command set through the MotionCentral(TM) SDK (Software Development Kit).

About Redlake
Redlake (www.redlake.com) is an acknowledged leader in high-speed digital motion analysis and high-resolution imaging systems for testing, research and production applications. Engineers, researchers and production managers use the company's high-speed imaging products in automotive, military, laboratory and production line applications on a worldwide basis. Redlake is headquartered in San Diego, California, with operations worldwide.