Digital Battery Analyzer offers complete diagnostic solution.
Press Release Summary: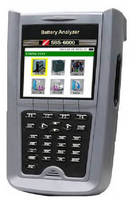 Equipped with Ethernet and RS-232 connections and probes for testing batteries at post, SBS-6000 measures critical operating parameters required by NERC and IEEE for battery maintenance. Interface fosters usability, while feature set ensures consistent and accelerated battery testing. Analysis provides immediate results during measurements, and 3 key indicators identify cell's test results as PASS, WARNING, or FAIL. Results are saved automatically for upload into accompanying software.
---
Original Press Release:

Introducing the Innovative SBS-6000 Digital Battery Analyzer



The innovative SBS-6000 Digital Battery Analyzer provides comprehensive data required for critical battery maintenance programs and required NERC / IEEE reporting.



Menomonee Falls, Wisconsin – Storage Battery Systems, LLC., (SBS) an industry leader in battery testing equipment and Power Solutions™, is pleased to announce the release of their newest digital battery analyzer the SBS-6000.



The SBS-6000 boasts new color screen technology, improved probes for testing batteries at the post and a user friendly interface. The new innovative features of the SBS-6000 ensure battery testing is fast and consistent. Combined with the accompanying software, it becomes a complete battery diagnostic solution.



The SBS-6000 battery analyzer is primarily used to measure critical operating parameters required by the NERC and IEEE as part of a comprehensive battery maintenance program.  The SBS-6000's analysis feature provides immediate results during measurements.  The three key indicators promptly identify the cell's test results as either PASS, WARNING, or FAIL so that the individual cells may be marked failed or problematic while on site.  Test results are saved automatically for upload into the accompanying software which produces precise reports essential for tracking the history of a cell's performance.



"The SBS-6000 is fast, easy to operate and one of the most competitively priced internal resistance testers in the market today," says Max Mueller, Director - Stationary Power Division. "It enables anyone who is testing stationary batteries to be more efficient and accurate in their data collection. The Ethernet and RS-232 (serial) connections integrate seamlessly with the included data analysis software and everything can be exported to Excel," Mueller added.



Founded in 1915, Storage Battery Systems LLC is renowned for providing DC Power Solutions™ for number of battery and power applications including stationary, motive power and critical power (UPS). SBS has a reputation for delivering superior performance and dedication to customer service.



To learn more about SBS, visit http://www.sbsbattery.com/SBS-6000 or contact SBS at (800) 554-2243.



Test Equipment Division

Josh Cirillo

Category Manager

Storage Battery Systems, LLC

262-703-5800

te@sbsbattery.com



Marketing Division

Edward J . Naczek

Storage Battery Systems, LLC

262-946-1288

edwardn@sbsbattery.com

More from Laboratory and Research Supplies and Equipment