Digital Automation System features electronic marshalling.
Press Release Summary: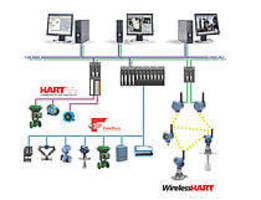 Featuring I/O on Demand, DeltaV S-Series Platform allows users to choose among traditional wired, wireless, bussed, and Electronic Marshalling. Single-channel CHARacterization ModuleS relay I/O information to any DeltaV controller via Ethernet backbone, eliminating need for users to wire I/O to specific controller I/O cards. By easily adapting to change, Electronic Marshalling allows process manufacturers to shorten project schedules and accommodate late project changes.
---
Original Press Release:

Emerson Introduces the Deltav(TM) S-Series Platform with "I/O On Demand" that Eliminates Work, Reduces Project Cost, and Increases Operational Flexibility



New platform also unveils Electronic Marshalling, an industry breakthrough which streamlines 35-year old engineering practices

ORLANDO, FLA (September 28, 2009) -- Emerson Process Management announces the new S-series platform featuring "I/O on demand" and Electronic Marshalling. Resulting from an intense focus on Human Centered Design, the S-series headlines the company's wide ranging innovative technologies in the v11 release of the DeltaV(TM) digital automation system. The new DeltaV S-series platform sets the industry standard for usability and flexibility.

The new DeltaV release includes major enhancements to all of the systems' I/O processing, operator displays, asset management, batch capability and system security. These combined capabilities reduce customer project complexity, eliminate needless work, and speed system commissioning. They lift Emerson's PlantWeb® digital architecture to new levels of project and operations performance.

Unique project and operations advantages stem from the S-series I/O on Demand flexibility which allows users to choose among traditional wired, wireless, bussed and Electronic Marshalling.

With I/O on demand, users decide what type of I/O they want - Wireless, FF, HART, AI, AO, DI, DO, DP, T/C, or RTD. They decide when they want the I/O, whether for late project changes, during start-up, during operation, or temporary installations; and where they want the I/O, whether in a rack room, remote locations, hazardous areas, safety systems, or harsh environments. The DeltaV S-series enables this freedom of I/O choice and ease of implementation.

Further advantages are realized with Electronic Marshalling, a powerful new technology that streamlines design and installation for users. This unique marshalling approach eliminates two-thirds of the wiring and connections needed by today's conventional marshalling cabinets. A striking new technology invented with the S-series -- new single channel CHARacterization ModuleS (CHARMS) -- make this possible. CHARMS relay I/O information to any DeltaV controller via Ethernet backbone. This unique electronic communications method eliminates the need for users to wire I/O to specific controller I/O cards. This change can dramatically impact the users' experience since it provides single channel integrity and flexibility down to the channel (not I/O card) level. These benefits improve plant uptime, and make projects simpler and easier to engineer and implement.

Beyond making the normal project tasks easier, another significant benefit from Electronic Marshalling is dealing with change. Whereas traditional project engineering requires major time and cost in changing rack-room I/O wiring and terminations as process design is refined during project execution and construction, the DeltaV S-series hardware with Electronic Marshalling makes changes easy and eliminates re-wiring. Simply land the field wires, pop in the CHARM and electronically marshal it wherever needed. By adapting to change easily, Electronic Marshalling allows process manufacturers to shorten project schedules, accommodate late project changes, and dramatically simplify the I/O and marshalling design process. This late binding of process changes provides unparalleled adaptability and can help avoid costly, last minute change orders.

According to Larry O'Brien, research director at ARC Advisory Group, "There is a significant amount of cost associated with traditional marshalling methods, which can also limit the changes possible in the engineering and design of the system. The new I/O on Demand capability of Emerson's DeltaV S-series allows users to add or change I/O types whenever project design changes are made, and they can do it no matter where the I/O is located. Even more important than reducing projects costs is the reduced time to startup achieved by this kind of an approach."

The DeltaV S-series makes a major enhancement for WirelessHART networks as well. In addition to the existing native wireless integration, the new DeltaV S-series now has fully redundant communications, which together with the mesh wireless networks, provide the highest uptime possible. With these capabilities, users can apply wireless technology to more monitoring and control applications than ever before.

FOUNDATION(TM) Fieldbus remains the bus of choice for process manufacturers due to its continuous diagnostics, control-in-the-field capabilities, and wiring economies. The S-series furthers these advantages by including a new FOUNDATION fieldbus I/O card that includes an integrated power supply. Unique to Emerson, this new approach eliminates the cost and expense of purchasing, engineering, mounting and maintaining separate bulk power supplies and fieldbus power conditioning modules.

Although the S-series hardware and I/O on Demand are the headliners for the new DeltaV system, there are a number of other significant capabilities in this release. These new capabilities include an entirely new set of visually-focused operator displays that improve operator performance by clear and quick recognition of alerts, and rapid access to the information needed to understand the alert and act in a timely fashion. AMS® Suite predictive maintenance software is now installed on every DeltaV system, which enables a smooth progression of integrated asset capabilities. Users can start with the AMS Device Configurator, and easily activate AMS Intelligent Device Manager at any time. New capabilities in the release also span batch, reliability, usability and security.

The DeltaV S-series with I/O on Demand, together with other components of the v11 software release, offers a wide-ranging new solution set for process automation users, and is backward compatible with existing DeltaV installations. New projects or expansions, Greenfields or modernizations, can all realize advantages from these new capabilities.

About Emerson Process Management

Emerson Process Management (www.emersonprocess.com), an Emerson business, is a leader in helping businesses automate their production, processing and distribution in the chemical, oil and gas, refining, pulp and paper, power, water and wastewater treatment, mining and metals, food and beverage, pharmaceutical and other industries. The company combines superior products and technology with industry-specific engineering, consulting, project management and maintenance services. Its brands include PlantWeb®, Syncade(TM), Fisher®, Rosemount®, Micro Motion®, Daniel®, DeltaV(TM), Ovation®, and AMS® Suite.

About Emerson

Emerson (NYSE:EMR), based in St. Louis, Missouri (USA), is a global leader in bringing technology and engineering together to provide innovative solutions to customers through its network power, process management, industrial automation, climate technologies, and appliance and tools businesses. Sales in fiscal 2008 were $24.8 billion and Emerson is ranked 94th on the Fortune 500 list of America's largest companies. For more information, visit www.Emerson.com.

PlantWeb, Syncade, Fisher, Rosemount, Micro Motion, Daniel, DeltaV, Ovation, and AMS are marks owned by one of the Emerson Process Management legal entities. Other marks are property of their respective owners.

CONTACTS:

Jerry Moon, Emerson Process Management

1 (512) 832-3089, Jerry.Moon@Emerson.com

Lisa Eisenbrey, Emerson Process Management

1 (512) 834-7106, Lisa.Eisenbrey@Emerson.com

Related