Digi-Key Electronics Expands Product Offerings to Include Flexible Heaters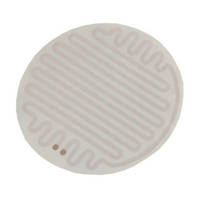 Thief River Falls, Minn., May 28, 2020 /PRNewswire/ -- Digi-Key Electronics, a global electronic components distributor, announced that it has expanded its thermal management product line by adding key flexible heater manufacturers including All Flex, TurboFlex Heaters, and other suppliers.
In serving engineers, designers, product development groups, and the electrical engineering community, Digi-Key has recognized that their customer base is routinely designing and incorporating flexible heaters in new product designs. In addition, these individuals are typically already using Digi-Key as a source for the control and electrical management of heating products, and therefore adding this new wide breadth of flexible heater options will help streamline their purchasing process.
This expansion is part of Digi-Key's Marketplace initiative to broaden the product offering now available for customers, making Digi-Key more of a one-stop-shop than ever before. Digi-Key is now offering the largest supply of flexible heaters in the country, with nearly 500 different models, sizes, shapes, material types and power alternatives.
"We are extremely excited to add such a broad selection of flexible heater and thermal management components to our Marketplace," said David Stein, vice president, global supplier management at Digi-Key. "We know that our customers continue to want to use our distribution services as a one-stop-shop for all of their component needs and adding such a variety of thermal management products to our line helps us make that possible."
TurboFlex Heaters provides polyimide and polyester foil heaters in sizes from a few square inches to large format layouts covering a wide range of power options. The company is known for its quick turnaround time of custom heaters at economy prices, serving product designers, product development groups, engineers, and small-to-medium production volume. In addition, its standard line of heaters is the largest in the world.
"Digi-Key is in an ideal position to get our flexible heaters into the hands of engineers and designers who are actively designing new products and need flex heaters quickly in order to keep their project moving forward," said Jahn Stopperan, president of TurboFlex Heaters. "With Digi-Key's emphasis on delivering product quickly, the company aligns perfectly with our speed-based business strategy."
All Flex Inc. is a multi-location production facility with ISO, Mil-Spec, ITAR, AS9000, NASA Qualified, and UL certifications serving medical, military/aerospace, industrial, outdoor electronics, and laboratory equipment, plus a wide variety of general electronics application areas. Providing polyimide and silicone rubber heaters, All Flex specializes in advanced design and precision performance heaters and assemblies, including high temperature applications. With both custom and standard heaters, All Flex's product breadth is one of the largest in the country.
"Digi-Key provides another strong market avenue for All Flex products due to their widespread market position with OEMs of all sizes," said Jamin Taylor, vice president of sales/marketing for All Flex. "Our capabilities in providing design assistance and thermal solutions are an excellent fit with Digi-Key's customer base."
For more information about TurboFlex Heaters and All Flex Inc. and to order from their product portfolio, please visit the Digi-Key website.
About All Flex
All Flex is a flexible printed circuits manufacturer that has consistently delivered high quality flex circuits for two decades. We have responded to market demands and now offer heated circuits and deliver in high volume as well as prototypes from our two Minnesota production facilities.
About TurboFlex
Located in Burnsville, MN, TurboFlex manufactures etched-foil flexible heaters utilizing automated systems to deliver fast and at low cost. Our business is set-up to enable individuals to order custom heaters in minutes and for our production facility to deliver in days.
About Digi-Key Electronics
Digi-Key Electronics, headquartered in Thief River Falls, Minn., USA, is an authorized global, full-service distributor of electronic components, and provides access to unlimited adjacent products and technologies through their online Marketplace. They offer more than 10.2 million components, with over 2.2 million in stock and available for immediate shipment, from over 1,200 quality name-brand manufacturers. In addition, Marketplace Product provides a singular shopping experience for all things related to technology innovation — IoT, industrial automation, test and measurement and more. Additional information and access to the world's broadest resources for technology innovation can be found by visiting www.digikey.com and on Facebook, Twitter, YouTube, Instagram, and LinkedIn.
Editorial Contact:
Shelli Lissick
Bellmont Partners
+1 651 276 6922
digikey@bellmontpartners.com
Source Digi-Key Electronics
Web Site: http://www.digikey.com
More from Packaging Products & Equipment