Diesel Engines range from 240-493 hp.
Press Release Summary: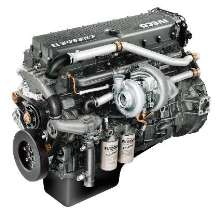 CURSOR Series consists of 6-cylinder, 24-valve diesel engines that can be configured to meet applications in industrial, agricultural, marine, and power generation industries. Available in 8, 10, and 13 liter versions, engines have total electronic control to monitor operating conditions. Compliant with emission and noise regulations, engines feature noise level below 95 dBA at maximum power. Select models offer variable geometry turbochargers.
---
Original Press Release:
Iveco Motors Introduces Their Renowned CURSOR Family of Diesel Engines to North America
Offering A Line of Engines with Maximum Power CAROL STREAM, IL (April 2004)-Iveco Motors of North America, Inc., a subsidiary of Iveco Motors, a leading world-class diesel engine manufacturer, is proud to unveil their CURSOR Family of Diesel Engines. The CURSOR family offers six-cylinder, 24 valve diesel engines that can be configured to meet any application in the industrial, agricultural, marine and power generation industries. "The CURSOR'S advanced technology will serve as the platform for future engine development," says Vincenzo Perrone, General Manager of Iveco Motors of North America. "The line's excellent fuel consumption rate and durability are just a few reasons why our customers will appreciate this new family of engines." CURSOR engine's high technology design and cutting edge manufacturing provide OEMs with an engine family that has maximum operating versatility. Horsepower ranges between 240 and 493hp, and the family is available in 8, 10, and 13-liter versions. As a platform for future technology, the engines are characterized by high power and low operating costs with performance levels that are typically associated with engines of greater size and weight. The CURSOR family has total electronic control to monitor the operating conditions of the engine and provide information to the operator, ensuring consistent performance and a long life. Iveco Motors optimizes the combustion process to allow for an environmentally clean engine. Compliant with current and future emission and noise regulations, the engine boasts a noise level below 95 dBA at maximum power. The engine's design enables the engine to be rebuilt in the chassis. Options available include decompression exhaust brake, different shapes of lubrication oil sumps and flywheels for different transmission types. In addition, a horizontal version is also available. Select models feature variable geometry turbochargers to provide additional torque and power. Like all Iveco engines, the Cursor family is manufactured in a plant that is ISO 9002 certified. In addition, the CURSOR family is Tier 3 ready. Iveco engines are the result of over 100 years of engine-making experience and offer the widest availability of customized engine build options. Headquartered in Torino, Italy, Iveco is recognized as a worldwide leader in power train systems. With production of almost 400,000 engines in 2003, the company has nine plants and three research facilities dedicated to engines, located throughout Italy, France, South America and Asia. In order to respond to the demands of the North American marketplace, Iveco recently began operations in Carol Stream, Illinois, to deliver first class service throughout Canada and the United States. Iveco Motors of North America, Inc. is a U.S. corporation fully owned by Iveco S.p.A, which is part of the Fiat group. Fiat S.p.A. shares trade on the New York Stock Exchange under the symbol FIA. The newly opened Iveco Motors of North America offers complete product support and customer service. For more information please call (630) 260-4226 or visit www.ivecomotors.com
More from Mechanical Power Transmission