Diesel Emissions Analyzer provides real-time data.
Press Release Summary: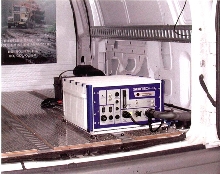 SEMTECH-D enables diesel vehicle's tailpipe emissions and output of on-board electronic control system to be measured and recorded simultaneously while being driven on road. When reporting concentrations for NO, NO
2
, CO, CO
2
, and THC exhaust constituents, accuracy, resolution, and detection limits are 3-4%. Reporting is in g/Bhp-hr or g/mile on electronically controlled engines. For engines without electronic controls, additional instrumentation is needed.
---
Original Press Release:

Design Development of Sensors, Inc., Semtech-D, Provides Accurate Real-Time Diesel Emissions Analysis


SALINE, Mich., July 31 -- Sensors, Inc., with 30 years of experience in designing and building emissions analysis equipment, has introduced SEMTECH-D, a new tool for analyzing emissions of diesel vehicles on road, in use.

SEMTECH-D enables a vehicle's tailpipe emissions and the output of the vehicle's on-board electronic control system to be measured and recorded simultaneously while the vehicle is driven on the road.

"No matter how sophisticated you make a laboratory test procedure, it will never truly replicate real-world operating conditions," says Andrew Reading, Ph.D., president of Sensors. "The only accurate way to get results is to monitor the vehicle as it goes through its actual duty cycle."

Accuracy is ensured with SEMTECH-D. When reporting concentrations for five exhaust constituents, accuracy is within ± 3 or 4 percent of the reading. Resolution and detection limits are similarly precise when SEMTECH-D reports mass.

For NO, NO2, CO, CO2 and THC, reporting can be done in g/Bhp-hr or g/mile using electronically controlled engines. For engines without electronic controls, additional instrumentation is provided to deliver g/Bhp-hr figures.

"Portability would mean little if accuracy suffered," Reading says. "But SEMTECH-D offers lab-quality accuracy in a portable unit. Recent correlation testing with a Caterpillar C-10 engine demonstrated just how closely SEMTECH-D follows lab results."

Sensors launched SEMTECH-D anticipating that the unit would have broad appeal, not only for engine and vehicle OEMs, but also for commercial laboratories and universities.

"We expect SEMTECH-D to become standard equipment for development and testing of engines, vehicles and exhaust after treatment systems," Reading says.

In addition to collecting performance data under real world conditions, SEMTECH-D typically provides a more economical solution for testing engine emissions than traditional test cell settings. Other potential testing and development applications include:
o Engine and vehicle sub-system development;
o Catalyst and particulate trap testing;
o Vehicle compliance testing;
o Tracing driveability problems; and
o Developing engine and vehicle electronic control strategies and calibrations.
o End-of-line production testing

"With an optional GPS unit," Reading says, "SEMTECH-D can even provide vehicle surveillance."

To meet so many applications, SEMTECH-D had to be flexible, and it is. At only 22"D x 17"W x 14"H and weighing only 70 pounds, the unit can easily be installed on most vehicles. Typical setup time is under 30 minutes. SEMTECH-D can also be rack-mounted or operated on a cart, for laboratory work.

Further flexibility is provided for data retrieval. Information can be retrieved remotely using a wireless, cellular or satellite link or it can be taken directly from the unit's message center. The message center also displays instrument status, operating condition, fault diagnostics and remote communications status.

SEMTECH-D was designed to meet demanding conditions. Key features of its ruggedization process include epoxy-potted electronics, isolation-mounted circuit boards, and heavy-duty electrical components.

SEMTECH-D offers portability, accuracy and convenience for OEMs and labs that must monitor and report on diesel exhaust emissions characteristics.

"From engine OEMs to fleet managers to after treatment manufacturers, there's a whole host of entities out there that need to understand emissions characteristics," Reading says. "For them, SEMTECH-D is the answer."

Sensors, Inc., has been a leader for many years in the design and manufacture of OEM gas analyzers for the inspection and maintenance (I/M) industry. Over the past four years the company has shifted its R&D focus to on-road, in-use technology, made possible by Sensors, Inc.'s development of robust, solid-state analytical techniques. SEMTECH-D is one of several such products the company now offers.

Rob Wilson, Sensors Inc.
6812 S. State Rd. Saline, MI
48176 734.429.2100
rwilson@sensors-inc.com


More from Test & Measurement