Dielectrics offer low loss characteristics for RF modules.
Press Release Summary: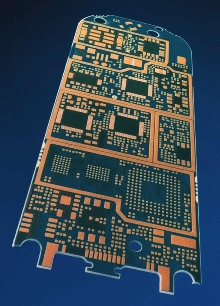 MICROLAM® 610 dielectric minimizes dielectric cracking and provides PCB mechanical reliability. Reinforced microvia material consists of FR-4 epoxy resin and continuous toughening matrix. MICROLAM® 620 dielectric suits chip package substrates. It consists of thermoset resin in reinforcing matrix with moisture resistance and mechanical reliability. MICROLAM® 630 dielectric consists of BT resin in continuous toughening matrix and provides surface planarization.
---
Original Press Release:
Gore Launches MICROLAM(R) 600 Series Microvia Dielectrics

New Microvia Dielectrics toughened to allow you to drop the phone without dropping the call!

Elkton, Md. (May, 2002) W. L. Gore & Associates, Inc., a leading provider of electronic materials, launches the new MICROLAM® 600 Series Microvia Dielectric products with optimized electrical and mechanical properties. The materials are toughened to ensure superior reliability in cell phones, PDA's, and other portable devices. They pass new handset OEM drop tests, meet critical environmental tests for chip packages, and offer very low loss characteristics for RF modules.

Gore's MICROLAM® 610 dielectric, a drop-in replacement for resin coated copper, minimizes dielectric cracking and provides improved PCB mechanical reliability. This reinforced microvia material consists of standard FR-4 epoxy resin and a continuous toughening matrix. It has a low dielectric constant and excellent thickness uniformity for controlled impedance layers. In addition, its excellent surface planarity affords fine lines and spaces. Typical applications are build-up laser microvia PCBs, wireless portable device PCBs, and wireless infrastructure PCBs.

MICROLAM® 620 dielectric is a toughened, low dielectric constant material for chip package substrates. This material consists of a high temperature, thermoset resin in a reinforcing matrix offering superior moisture resistance and mechanical reliability. It provides stable electrical properties over a wide temperature and frequency range, and it provides excellent thickness uniformity for controlled impedance layers. Like the MICROLAM® 610 dielectric, it can be used as a drop-in replacement for resin coated copper, and it's compatible with standard desmear processes. Typical applications are chip package substrates.

MICROLAM® 630 dielectric is the lowest loss microvia material affording the best cost/performance solution for high frequency microvia modules and PCBs. This high performance material consists of standard BT resin in a continuous toughening matrix. It provides excellent surface planarization for fine lines and smaller vias for increased design freedom. In addition, it is thinner for improved microvia aspect ratios, and it can be laser drilled 5-8x as fast as glass prepregs. Typical applications are WLAN, Bluetooth, and power amplifier RF modules; MCM, transceivers, and optical modules; and high speed telecom and computing microvia PCBs.

W. L. Gore & Associates, Inc. is a leader in providing high technology solutions for electronic, industrial, medical, and fabric applications. Headquartered in Newark, Delaware, W. L. Gore & Associates, Inc. is an international company with over 45 plants worldwide.

For more information, call W. L. Gore & Associates, Inc. at 800-445-4673 (USA) or 302-292-5100 (international); or visit their Web site at http://www.gore.com/electronics.

Please send leads to:
Technical Marketing Support
W. L. Gore & Associates, Inc.
402 Vieve's Way
Elkton, MD 21922
(800) 445-4673
More from Cleaning Products & Equipment