Did You Know that P-80® Lubricants are Available in Handy, Re-sealable, 10ml Tubes?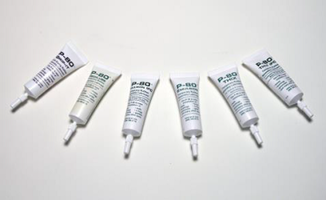 P-80® Temporary Rubber Lubricants are ideal for maintenance and repair kits.
Many jobs can benefit from the reduced friction and increased safety provided by P-80® Temporary Rubber Lubricants. Major manufacturing companies have used P-80 lubricants for years for the assembly of engine mounts, bumpers, seals, belts, bushings, O-rings, hoses, grommets, grips, plugs, moldings, tires and many other rubber or soft plastic engineered parts.
Now, P-80 is available in handy re-sealable tubes making it perfect for maintenance, repair, service or even the dreaded recall. The 10 mL size provides enough lubrication for multiple repairs. They are a perfect size for assembly, maintenance and repair kits.
P-80 is helpful for pump, HVAC, auto and truck, motorcycle, construction equipment, mechanical seal, pool and spa, appliance, bicycle, plumbing and many other repair jobs. In fact, every fleet or service center can benefit from the use of P-80 for their ongoing maintenance.
P-80 lubricants enable rubber parts to slide easily into place with minimal force. Once dry, P-80 stops lubricating and parts remain in place, resulting in a tight fit.
Please contact us at mkt@ipcol.com to help you decide which formula will best serve your needs. Free sample kits and technical assistance are available.
More from Electrical Equipment & Systems