Dicing Die Attach Films suit stacked die applications.
Press Release Summary: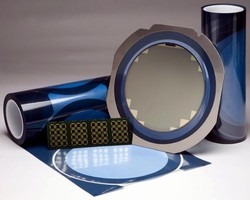 Designed to streamline die attach process, Hysol® QMI5100 and QMI5200 are formulated to combine properties and functions of die attach film and dicing tape. Curing takes place during standard molding process, eliminating need for dispensing or curing equipment. Formulated as pressure sensitive release materials, products leave no burrs after dicing, promote bondline thickness control, and enable die placement times down to 0.1 sec.
---
Original Press Release:

New Dicing Die Attach Films from Henkel Enhance Process Efficiency, Deliver Exceptional Performance



Irvine, California, August 13, 2007

Recognizing that packaging specialists have unique manufacturing requirements, Henkel has developed a full line of die attach materials to meet the varying demands of today's advanced production environments. In keeping with this philosophy, the company announces the introduction of two new dicing die attach film products, Hysol® QMI5100 and Hysol QMI5200.

Designed to streamline the die attach process, particularly for stacked die applications, Hysol QMI5100's and Hysol QMI5200's unique formulations combine the properties and functions of die attach film and dicing tape into one product. With these dual structured materials, one need only laminate the film to the backside of the wafer, dice the wafer, pick the die and move to die placement. Using these high performance films essentially removes the need for any dispensing or curing equipment or process steps, as paste dispensing is not required and curing takes place during the standard molding process. The materials leave no burrs after dicing, enable superior bondline thickness control and eliminate the common bleed issues associated with die attach pastes.

Hysol QMI5100 is a 10 micron thick material and is most commonly used on the DAX levels of the die stack. Approved for use on DA1 (the mother die) and/or DAX, Hysol QMI5200 is available in a thickness of 20 microns. While both materials have been successfully employed for a variety of die attach applications, the primary market for Hysol QMI5100 and Hysol QMI5200 is for FLASH and DRAM memory devices.

"These innovative materials deliver the throughput and performance improvements constantly sought after by today's packaging professionals," comments Robert Chu, Henkel Global Product Manager for CSP Underfills, Image Sensors and Die Attach Film. "The dual structured formulas of Hysol QMI5100 and Hysol QMI5200 allow for a highly automated process and the elimination of previously required process steps. Plus, die placement is fast and there is no need for a separate die attach cure."

When compared to competitive materials, Henkel's dicing die attach films deliver several unique advantages including minimal or no burring after wafer dicing and extremely fast die placement time down to 0.1 second. Unlike other die attach film materials that require a UV release mechanism, Hysol QMI5100 and Hysol QMI5200 have been formulated as pressure sensitive release materials, eliminating the need for UV equipment and the time associated with a UV release process.

For more information on Hysol QMI5100, Hysol QMI5200 or any of Henkel's advanced die attach materials, call 949-789-2500 or log onto http://www.henkel.com/electronics.

About Henkel
For more than 130 years, Henkel has been a leader with brands and technologies that make people's lives easier, better and more beautiful. Henkel operates in three business areas - Home Care, Personal Care, and Adhesives Technologies - and ranks among the Fortune Global 500 companies. In fiscal 2006, Henkel generated sales of 12.740 billion euros and operating profit of 1,298 million euros. Our 52,000 employees worldwide are dedicated to fulfilling our corporate claim, "A Brand like a Friend," and ensuring that people in more than 125 countries can trust in brands and technologies from Henkel.

Contact
Henkel Corporation doug.dixon@us.henkel.com
Doug Dixon http://www.henkel.com/electronics
Phone: 949-789-2500
Fax: 949-785-2595

More from Sensors, Monitors & Transducers