Dichroic Beamsplitters suit image-splitting applications.
Press Release Summary: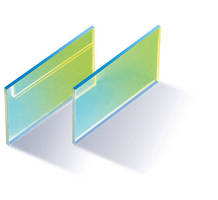 Targeted for high-speed and simultaneous multi-color imaging techniques, hard-coated dichroic beamsplitters can handle both transmitted and reflected light when separating beams of light by wavelength for simultaneous capture of multiple images. Filters are available in 25 x 36 mm rectangular size to fit most microscopes. Anti-reflection coating on backside provides transmission typically exceeding 95% average and minimizes artifacts from multiple reflections.
---
Original Press Release:

Semrock Launches Image-Splitting Dichroic Beamsplitters



ROCHESTER, N.Y. May 21, 2009 - Semrock, Inc., the standard in optical filters for biotech and analytical instrumentation, has introduced hard-coated dichroic beamsplitters for image-splitting applications. These beamsplitters offer superb image quality for both transmitted and reflected light when separating beams of light by wavelength for simultaneous capture of multiple images. For applications such as Fluorescence Resonance Energy Transfer (FRET) and real-time live-cell imaging, users can now separate two, four or even more wavelength ranges onto as many cameras or regions of a single camera sensor.

Compared with typical hard-coated epi-fluorescence dichroic beamsplitters, these specially designed image-splitting dichroics are more than 10 times flatter, thus avoiding image aberrations in the reflected beam. In addition, they offer very wide transmission and reflection bands for maximum flexibility and demanding applications like new super-resolution imaging techniques. An anti-reflection (AR) coating on the backside provides excellent transmission (typically exceeding 95% average) and minimizes artifacts from multiple reflections.

"As modern fluorescence imaging approaches grow increasingly complex, optical filters must keep pace," says Semrock CTO, Turan Erdogan. "These new image-splitting dichroics are carefully tailored for a number of high-speed and simultaneous multi-color imaging techniques." The filters come in a standard 25 mm x 36 mm rectangular size to fit most microscopes and have a list price of $295. Like all Semrock filters, these high-performance, durable, hard-coated dichroics can be cleaned like any glass optics, providing exceptional value. All Semrock products are covered under our five year warranty.

For more information on how flatness of dichroic beamsplitters affects focus and image quality, visit www.semrock.com/technicalinformation/dichroicflatness/.

ABOUT SEMROCK:

Semrock, Inc., a Unit of IDEX Corporation, manufactures a wide range of quality optical filters that set the standard in performance and reliability for the biotech and analytical instrumentation industries. All Semrock optical filters are made with hard ion-beam-sputtered optical coatings. OEM filters are manufactured in volume. End-users benefit from a wide selection of standard catalog products that ship from stock. Semrock's patented and patent-pending products include the highly acclaimed BrightLine series of fluorescence filters for research and clinical microscopy, high-throughput screening, real-time PCR, and other fluorescence-based instrumentation; state-of-the-art filters for Raman spectroscopy; and other unique laser analytical instrumentation filters. Semrock's innovative products, made possible by combining modern ion-beam sputtering with Semrock's proprietary volume manufacturing technology, are covered under a five-year warranty.

Founded in September 2000, Semrock is based in Rochester, New York, a well-known center of optics, and has sales offices throughout the United States. In October 2008 Semrock became a Unit of IDEX Corporation. For additional information about Semrock, its products, and its team of international distributors, visit the company website at www.semrock.com.

CONTACT:

Amanda Valek-MacDonald

Semrock, a Unit of IDEX Corporation

amacdonald@semrock.com

585-594-7003

More from Software