Dialight DuroSite® LED Low Bay Fixture Certified by DesignLights(TM) Consortium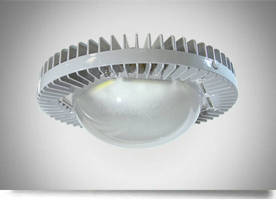 Maintenance-Free, Low-Glare Fixture Added to DLC Qualified Products List under Parking Garage Luminaire Category, Now Pre-Qualified for Utility Rebates

Farmingdale, NJ - Dialight (LSE: DIA.L), an innovative global leader in LED lighting technology, today announced that its DuroSite® LED Low Bay fixture has is now listed on the Designlights(TM) Consortium's Solid State Lighting Fixtures Qualified Products List in the Parking Garage Luminaire category. Posting on the DLC list identifies the fixture as eligible for valuable utility rebate programs with participating DLC utility partners and validates the Low Bay's exceptional energy efficiency and lighting efficacy for use in parking garage applications.

Recently launched, the DuroSite Low Bay features Dialight's exclusive optics design for precision light placement and reduced glare for superb visibility in low-clearance applications. This high-durability fixture features a low-profile chassis specifically designed for mounting at lower than 25-foot height. Delivering up to 75 lumens per watt, the Dialight Low Bay is among the most energy efficient lighting solution available for low-clearance applications, ensuring at least 50 percent energy savings over typical HID lighting sources. With up to 10 years of reliable performance and maintenance-free operation, upgrading to the Dialight LED Low Bay fixture can help municipal and private parking operators save money on both electricity and maintenance.

In addition to its high-efficiency and low-maintenance performance, the Dialight Low Bay features instant on/off response for improved safety and bottom-line savings by eliminating the need to keep the lights burning continuously to avoid the warm-up period common with conventional fixtures. Dimmable and occupancy sensor versions of the Low Bay are also available to further improve energy efficiency.

The DLC's Qualified Products List covers SSL luminaires for commercial spaces. It guides program administrators in determining which lighting products meet desired energy efficiency guidelines in categories not addressed by the U.S. Department of Energy's Energy Star program. Fixtures listed on the DLC's qualified product list may be eligible for state and utility energy efficiency rebate programs that enhance the overall cost savings and deliver a much quicker pay-back-less than two years, in most cases-for upgrading to LED solutions.

For more information about the new Dialight DuroSite LED Low-Bay fixture, including IES files and technical datasheets, visitwww.dialight.com.

About Designlights Consortium

The Northeast Energy Efficiency Partnerships (NEEP) Designlights(TM) Consortium (DLC) works to ensure that only high-quality, high-performance, tested and verified LED products will be eligible for rebates from sponsor programs. Sponsored by utilities and energy-efficiency programs throughout the United States, The DLC's Qualified Products List serves as a resource for program administrators to help them decide which solid state lighting products to include in energy efficiency promotions by reviewing and certifying products submitted by manufacturers against a set of guidelines based on the U.S. Department of Energy's ENERGY STAR program. For more information, visitwww.designlights.org.


More from Agricultural & Farming Products