Dial-Up Modems are IEC 60601-1 compliant for medical use.
Press Release Summary: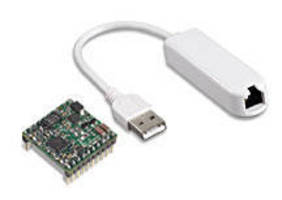 Available as embedded modules with Serial TTL or USB interface or as USB external dongle, Medical Dial-Up Modems operate under Windows, Linux, or Mac environments. RoHS-compliant units feature -40 to +85°C operating temperature, with 3 kV isolation breakdown on selected models. Providing up to V.92 56 Kbps data speed and send/receive fax speed of 14.4 kbps, modems offer online voice playback and recording, data flow control and speed buffering, and automatic format/speed sensing.
---
Original Press Release:

Radicom Announces Low Cost IEC 60601-1 Medical Certified Dial-up Modems for OEMs



Small and versatile embedded and external telemedicine modems offered in Serial TTL and USB interfaces

SAN JOSE, Calif. - Radicom Research, Inc., a leading designer and manufacturer of dial-up and wireless modems for commercial and industrial systems, announces its line of medical certified dial-up modems for OEMs.

IEC 60601-1 compliant for medical applications and safety, emissions and telecommunications compliant to meet most global medical device requirements, Radicom medical modems are available as embedded modules with Serial TTL or USB interface or as a USB external dongle.

All are capable of operating under Windows, Linux or Mac environments. All embedded modems feature a -40oC to +85oC operating temperature, with high voltage 3KV isolation breakdown on selected models. All versions are RoHS compliant.

Reliable, full featured and low cost, these very small and versatile modems are specifically engineered to meet the stringent requirements of the medical services industry and to provide design flexibility for emerging telemedicine applications. Certifications are transferable to allow easy integration into almost any platform.

All medical modem versions are CCITT and Bell compliant for complete compatibility with existing and future installations. Versions include 300bps (V.21/Bell103), 1200/2400bps (Bell212/V.22/V.22bis), 14.4kbps (V.32bis), 33.6kbps (V.34) and 56kbps (V.90/V.92).

All platforms are available with FAX, voice playback and record, as well as DTMF (SP) tone generation and detection. These versatile products can be provisioned for applications ranging from office and home monitoring systems, data retrieval and reporting to answering inbound calls with voice responses. OEM private labeling is available.

Radicom Medical Modems

The Radicom Research medical modem family makes it easy to integrate communications into medical platforms. USB interface models are available in external dongle and embedded PCB mount versions. Serial TTL interface models are available in Radicom's Half-InchModem(TM), TinyModem(TM) and SlimModem(TM) embedded PCB mount form factors.

"As telemedicine expands, the need for reliable, low cost communications is essential. Radicom engineers have succeeded in providing medical device OEMs with a compliant, full featured dial-up solution that is easy to integrate, at a very low cost with extreme reliability and ease of operation," said Alex Tsau, Vice President of Operations for Radicom Research.

Summary of Features:

o USB 1.1 and USB 2.0 support (USB Models)

o Linux (CDC-ACM), Windows and Mac OS support

o AT command set

o Up to V.92 56K bps data speeds

o Send/receive 14.4 kbps fax speed

o On line voice playback and recording

o Data flow control and speed buffering

o Automatic format/speed sensing

o V.29 fastPOS support

o Concurrent DTMF, ring and caller ID detection

o Line-in use, remote hang-up, extension pick-up detection

o Caller ID type I and II for select countries

o NVRAM for storing AT commands, telephone numbers and country configuration

Agency approvals: Transferable FCC68, CS03, CTR21 (EU) certifications. IEC60950-1, EN60950-1 approved, c/UL 60950-1 approved (select model), IEC60601-1 approved, IEC60601-1-2 approved (select model), AU/NZ Telecom compliant tested (select model), FCC15B & UL listed (select model), with CE Marking.

Applications

Radicom IEC 60601-1 medical certified dial-up modems can be adapted for any X86 or other CPU based platform using Linux, Windows or Mac OS. Included are home healthcare monitoring systems, portable home healthcare products, remote patient monitoring, health measurement and management equipment, and any data retrieval and reporting telemedicine application that would benefit from a reliable, flexible and economical communications solution.

Pricing and Availability

The Radicom Research medical modem family is available now. Prices begin at US$29.00 for the embedded models and $39.00 for the external dongle in quantities of 1,000 or more. Customized OEM color and private labeling are welcome.

About Radicom Research, Inc.

Founded in 1993, Radicom Research develops reliable, high quality, simple to implement dial-up and wireless modems, competitively priced. Headquarters are in San Jose, California, with offshore manufacturing capabilities.

Radicom specializes in designing and manufacturing modems for OEMs. Radicom modifies its award-winning modems to meet specific requirements, and designs custom products to fit special needs.

OEMs and product designers are invited to contact Radicom Research for consultation on medical compliant dial-up modems to enable their telemedicine system applications. Phone: 1-408-383-9006, ext. 112; Fax: 1-408-383-9007; Email: sales@radi.com; Website: www.radi.com.

More from Electronic Components & Devices