Dewpoint and RH Transmitter has ±0.36°F dewpoint accuracy.
Press Release Summary: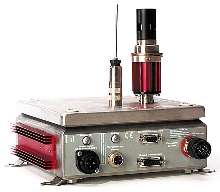 Optidew utilizes optical dewpoint measurement technology and is offered in three configurations: wall mount with integrated sensor, bench/panel mount with remote sensor, and probe mount for flange or duct installation. Unit has measurement range of -76 to +194°F dewpoint at temperatures from -40 to +194°F. Analog and digital outputs provide dewpoint, temperature, and relative humidity measurements in various engineering units.
---
Original Press Release:

New Optidew Dewpoint and RH Transmitter


Kahn Instruments, Wethersfield, CT, a leading manufacturer of advanced moisture-measurement instrumentation, is proud to announce the new Optidew Dewpoint and RH Transmitter. The Optidew is a high performance, dewpoint and RH transmitter, that utilizes Kahn's proven optical dewpoint measurement technology well know for its accuracy, stability, and ease of use in laboratory and calibration applications. Yet, the Optidew brings these benefits, and more, together in an industrial dewpoint and RH transmitter that is suitable for rigorous applications, including industrial process control, environmental test chambers, automobile test cells, furnace monitoring and air intake monitoring for industrial gas turbines.

Available in three configurations - wall mount with integrated sensor, bench/panel mount with remote sensor and probe mount for flange or duct installation, Optidew offers a wide measurement range of -76 to +194°F dewpoint (or 0.5 to 100% relative humidity) at temperatures from -40 to +194°F, and with accuracy of ±0.36°F dewpoint. Analog and digital outputs provide dewpoint, temperature and relative humidity measurements in various engineering units, including °F or °C dewpoint, %RH, °F or °C temperature, g/m3, or g/kg. An optional integrated digital display provides local indication of measured parameters and system status. Dynamic Contamination Correction (DCC) automatically eliminates measurement error that may be caused by mirror particulate contamination. DCC differentiates between mirror contamination and excess condensation at high dewpoints so that the instrument reacts to real requirements for contamination correction.

The Optidew Dewpoint and RH Transmitter is inexpensive to purchase, easy to use and comes with its own application software. No other transmitter offers the performance features of the Optidew in a single package.

For further information, contact:
Kahn Instruments, Inc.
885 Wells Road
Wethersfield, CT 06109
Phone: (860) 529-8643
Fax: (860) 529-1895
E-mail: hygros@kahn.com
Web site: www.kahn.com
Contact: Robert T. Bailey, Product Manager

More from Materials