Device measures ID and wall thickness of tubing and pipe.
Press Release Summary: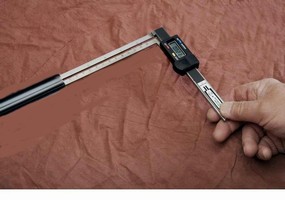 Developed for the HVAC and refrigeration industries, BoreMaster supplies instant ID measurement 6 in. into any bore with 0.375-1.250 in. diameter. Device is spring loaded in outward direction so measuring only requires insertion into bore, and ID is digitally displayed in inches and metric once probes are released. Delrin Wall Thickness clip, inserted into lower probe, allows accurate measurement of tubing wall thickness.
---
Original Press Release:

The BoreMaster Accurately Measures the I.D. of Tubing and Pipes, and Tube Wall Thickness



Developed for the HVAC and refrigeration industries, measuring tube I.D. on heat exchangers is now easy and accurate.

The BoreMaster is a totally unique product that accurately measures bore sizes 6" in depth into the tube or pipe and also tubing wall thickness. All readings are illustrated on the digital display in inches and metric.

The measuring range is 0.375" to 1.250" diameter and includes a gage ring for calibration.

The BoreMaster is spring loaded in the outward direction so the measuring process only requires insertion into the bore, releasing the probes and the internal diameter is displayed on the readout. The outward spring load eliminates the "human" factor when measuring assuring repeatable results.

Included is a Delrin Wall Thickness clip that, when inserted onto the lower probe, allows the accurate measurement of tubing wall thickness.

This is an accurate user friendly product that, within its range, supplies instant I.D. measurement 6" into any bore.

Visit our website at boremaster.net. Robert Louis Company -- 203-270-1400 or 800-979-9156. Fax: 203-270-3881. Email: bfoege@boremaster.net.