Development Kit supports embeddable RFID reader solutions.
Press Release Summary: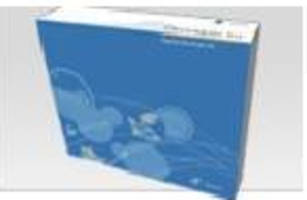 High-frequency M2 development kit, 723002, featuring 1 M2 CF and 1 M2 MH module, is intended for use in contactless financial transactions and encrypted authentication applications. It utilizes cryptographic standards to provide high level of security. Common Blade interface board, HF antenna, M2-MH-to-CBiB adapter board, MMCX-to-SMA connector, demo software, and software libraries are included. Kit can also be integrated as embeddable instrument for security applications.
---
Original Press Release:

13.56 MHz M2 Development Kit with 1 M2 CF and 1 M2 MH Module



Toronto, Canada - GAO RFID Inc. (www.GAORFID.com) recommends this high frequency (HF) M2 development kit (723002) with 1 M2 CF and 1 M2 MH module. This is a complete technology kit used to support secure embeddable HF reader solutions. The HF M2 development kit is specially intended for contactless financial transactions and encrypted authentication across a range of vertical markets.

GAO's HF M2 development kit provides a high level of security using best-in-class cryptographic standards. It contains a common Blade interface board, a HF antenna, a M2-MH to CBiB adapter board, a MMCX to SMA connector, Demo software and software libraries. Above all, this HF M2 development kit is a easily integrated as an embeddable instrument for security applications.

For more information about this M2 development kit, please refer to www.GAORFID.com or contact Sales@GAORFID.com.

About GAO RFID Inc.

GAO RFID Inc. is a leading provider of Radio Frequency Identification (RFID) hardware and solutions to end users worldwide. GAO RFID combines best of breed with low cost RFID readers, RFID tags and enabling-RFID software. GAO offers a wide variety of RFID readers, tags and antennas in all the RFID technologies, Low Frequency (LF), High Frequency (HF), Ultra High Frequency (UHF, Gen 2) as well as Active and Semi-Passive. GAO RFID's products and services are easily customized for use in asset tracking, healthcare, supply chain & logistics, event management, access control, livestock tracking, inventory control & management, field service maintenance and document authentication.

For more information please visit www.GAORFID.com

For any media queries:

Director of Marketing,

416-292-0038 ext 228,

marketing@GAORFID.com,

GAO RFID Inc. is a member of GAO Group, which also includes GAO Tek Inc. - www.GAOTek.com

GAO Research Inc. - www.GAOResearch.com

GAO RFID Asset Tracking - www.GAORFIDAssetTracking.com

GAO Embedded - www.GAOEmbedded.com

GAO Instruments - www.GAOInstruments.com

GAO Comm - www.GAOComm.com
GAO Fiber Optics - www.GAOFiberOptics.com

More from Optics & Photonics