Development Kit lets users produce PROFINET IO devices.
Press Release Summary: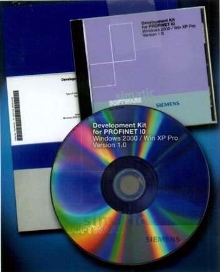 Based on NetARM processors, PROFINET IO Development Kit has one license for development and production of one product line. Each kit has printed license conditions and CD-ROM that contains all necessary firmware and required documentation, including firmware stack in source code for PROFINET IO; user description of PROFINET IO stack; and documentation and program examples for IO device and for CPU317-2 PN/DP that can be used as a test partner.
---
Original Press Release:

Profinet IO Development Kit Now Available


Scottsdale, AZ--(October 6, 2004)-- The PROFIBUS Trade Organization (PTO) has announced the availability of the PROFINET IO Development Kit that enables manufacturers to develop and sell their own branded PROFINET IO devices. The development kit consists of a CD ROM and the printed license conditions. Each kit contains a single license, permitting both the development and the production of a single product line. The availability of the kit will contribute significantly toward the extensive implementation of PROFINET. The price of the kit is $5900.

The CD ROM contains all the necessary firmware and required documentation including: firmware stack in source code for PROFINET IO; a user description of the PROFINET IO stack; extensive documentation and program examples for an IO device and for a CPU317-2 PN/DP that can be used as a test partner (IO Controller). A PC-based test solution is also under development and is expected to be released in early 2005.

The PROFINET IO Development Kit is available from the PROFIBUS Interface Center in Johnson City, TN and can be ordered via Siemens Customer Service, Phone: 423-262-2425, FAX: 423-262-2337. For detailed information users can go to sea.siemens.com/pic or contact directly: PROFIBUS Interface Center, One Internet Plaza, Johnson City, TN, 37604; Tel.: 423-262-2576; FAX: 423-262-2103; email: profibus.center@sea.siemens.com.

The kit is based on NetARM processors and the included firmware stack is adapted to the NetARM processor Net+50 from NetSilicon. This firmware stack can be ported to any other processor from NetSilicon or to that of another manufacturer. The user of the new kit needs to procure the NetSilicon development environment Net+Works 6.0 (or 5.0) and PROFINET test equipment separately. These are not included in the kit.

The development environment consists of: Net+50 processor (or similar); TCP/IP stack; ThreadX-RTOS operating system; and development board. It is available from: NetSilicon, Inc., 411 Waverley Oaks Road #304, Waltham, MA 02452; Tel. 1-800-243-2333; 781-647-1234; FAX 1-781-893-1338; email: info@netsilicon.com http://www.netsilicon.com/

Recommended components for testing include: Siemens CPU317-2 PN/DP (version V2.3) and a 2MB multimedia card, as well as the Step7 V5.3 SP1 configuration software; Ethernet switch and cables; and a 24VDC power supply for the CPU.

PROFINET, based on Ethernet, is a modern standard for distributed automation that provides enterprise-wide communication from factory and field device levels to management levels. It integrates existing fieldbus systems, specifically PROFIBUS, simply and without change. The use of established Ethernet-based IT technologies allows the connection of the automation/plant level with the corporate management level, including the direct exchangeability of order and production data. Internet connectivity makes it possible to initiate orders and carry out remote servicing and maintenance measures.

All interested parties can also download an all-new PROFINET Technology and Application Guide immediately at us.profibus.com/profinet.

The PROFIBUS Trade Organization (PTO) is a non-profit corporation working to enhance the PROFIBUS and PROFINET standards while educating and assisting device manufacturers throughout North and South America on the latest extensions and conformance tests associated with PROFIBUS and PROFINET. For additional information contact the PTO at 16101 North 82nd Street, Suite 3B, Scottsdale, AZ 85260. Phone: 480-483-2456; FAX: 480-483-7202. Internet: us.profibus.com

Related