Development Environment fosters robotics/control development.
Press Release Summary: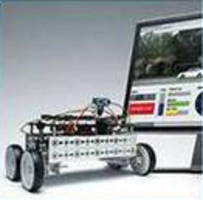 LabVIEW Robotics 2009 provides standard development platform for designing robotic and autonomous control systems. Specifically, this graphical system design software offers robotics library with connectivity to standard robotic sensors and actuators, foundational algorithms for intelligent operations, as well as perception and motion functions. Integration with various processing platforms, third-party software tools, and prebuilt robot platforms optimizes flexibility.
---
Original Press Release:

National Instruments Introduces LabVIEW Robotics 2009 for Designing Sophisticated Robotics Control Systems



New Software is Ideal for Designing, Prototyping and Deploying Autonomous Ground Robotic Systems

NEWS RELEASE - National Instruments today announced LabVIEW Robotics 2009, a new version of its graphical system design software that provides a standard development platform for designing robotic and autonomous control systems. NI LabVIEW Robotics 2009 delivers an extensive robotics library with connectivity to standard robotic sensors and actuators, foundational algorithms for intelligent operations and perception and motion functions for robots and autonomous vehicles. With this new software, engineers and scientists now can implement ideas faster with seamless deployment to real-time embedded and field-programmable gate array (FPGA) hardware, and can maximize the software flexibility through integration with a variety of processing platforms, third-party software tools and prebuilt robot platforms.

"When building a new robot, one must typically start from scratch. With no software standard, there is very little opportunity for code reuse or sharing," said Dr. Dave Barrett, professor at Olin College and former vice president of engineering at iRobot Corporation. "We need an industrial-grade, hardened, richly supported software development system to build autonomous, mobile robots that can sense, think, and act in the world around them. I have spent 15 years trying to come up with the best robotics programming language, and LabVIEW has accomplished that."

Because of its open graphical system design platform, LabVIEW Robotics 2009 can import code from other languages including C/C++, .m files and VHDL, and communicate with a wide variety of sensors using built-in drivers for everything from LIDAR, IR, sonar and GPS devices to dramatically reduce development time allowing engineers and scientists to focus on adding their own algorithms and intelligence. In addition, the software includes new robotics IP capable of easy implementation to real-time and embedded hardware for obstacle avoidance, inverse kinematics and search algorithms to help an autonomous system or robot plan an optimal path.

"The LabVIEW graphical and textual language has evolved dramatically in the past 23 years," said John Pasquarette, vice president of product marketing for software at National Instruments. "Initially developed as a data acquisition and instrument control tool for automated test, LabVIEW has grown into a powerful embedded mechatronics design platform. Engineers and scientists now can design sophisticated control systems and quickly deploy their applications to real-time embedded hardware from a single environment."

LabVIEW Robotics 2009 is ideal for designing and prototyping applications including the following:
-- Autonomous and semiautonomous ground vehicles
-- Robot rescue platforms
-- Personal and service robots
-- Medical robotic devices
-- Academic and research robots
-- Agricultural and mining systems

When combined with NI CompactRIO or NI Single-Board RIO devices, LabVIEW Robotics 2009 provides a complete development platform for designing robotic control systems. The reconfigurable I/O (RIO) architecture incorporates a real-time processor, an FPGA and a wide range of I/O, including analog, digital, motion and communication. By combining off-the-shelf sensors with a CompactRIO or NI Single-Board RIO embedded system, engineers and scientists can rapidly design and prototype complex robotic applications.

Readers can explore a collection of robotics tutorials, webcasts, videos and case studies about using NI hardware and software by downloading the "Robotics 101 Resource Kit" at www.ni.com. For additional information on LabVIEW Robotics 2009, readers can visit www.ni.com/robotics.

About National Instruments
National Instruments (www.ni.com) is transforming the way engineers and scientists design, prototype and deploy systems for measurement, automation and embedded applications. NI empowers customers with off-the-shelf software such as NI LabVIEW and modular cost-effective hardware, and sells to a broad base of more than 30,000 different companies worldwide, with no one customer representing more than 3 percent of revenue and no one industry representing more than 15 percent of revenue. Headquartered in Austin, Texas, NI has more than 5,000 employees and direct operations in more than 40 countries. For the past 10 years, FORTUNE magazine has named NI one of the 100 best companies to work for in America.

Pricing and Contact Information
LabVIEW Robotics 2009
Priced* from $1,999; 1,999; ¥294,000
Web: www.ni.com/robotics
*All prices are subject to change without notice.

Contact Sales: www.ni.com/contact
E-mail: info@ni.com

More from Mechanical Components and Assemblies