Detect Switches target consumer, ATCA, and medical devices.
Press Release Summary: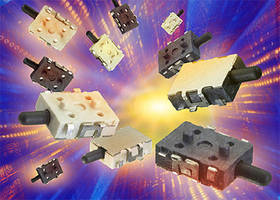 With 5.7 x 4.0 x 2.0 mm footprint, SDS Series side-actuated, right-angle switches detect presence of mechanical devices. Micro-miniature units deliver 2 mm overtravel and actuation force of 75 g. Available with silver or gold contact and terminal plating, switches feature contact rating of 100 mA at 12 Vdc with max contact resistance of 100 mW. RoHS-compliant devices operate from -40 to +85°C and come in both SPDT-NO and SPDT-NC configurations.
---
Original Press Release:

C&K Develops Right Angle, Side-Actuated Detect Switch for Consumer, ATCA and Medical Devices



Micro-miniature detect switch sits just 2mm off PC board, delivers long 2mm overtravel

NEWTON, MA (March 2, 2009) - C&K Components, a leading international supplier of tact
switches, toggle, rocker and pushbutton switches, and smart card interconnect devices, has developed a micro-miniature, side-actuated, right angle detect switch in a low profile package.

Designated the SDS Series, the compact detect switch sits just 2mm off the PC board while delivering 2mm overtravel and a low actuation force of only 75 grams max.
"The SDS Series switches were specifically designed for detecting the presence of a mechanical device," said David Webber, Director of Product Management for C&K Components. "With a footprint of only 5.7 x 4.0 x 2.0mm and featuring extended life cycles, these detect switches are being employed in a wide variety of areas such as portable medical equipment and handheld consumer electronics."

In addition to medical and consumer electronics, the SDS Series detect switches are ideal for detector applications in server blades, hot swap applications, copiers, smart card and PCB lock cam detection, and anywhere detecting the presence of a mechanical device is required. The SDS is frequently used in ATCA applications.

Offered in SPDT-NO and SPDT-NC configurations, the SDS Series side-actuated detect switch is available in right angle PCB-mount style. The switch features a long total travel of 2.0mm.

The SDS switch is available with either silver or gold contact and terminal plating depending on the application. Contact rating is 100mA @ 12VDC, with a maximum contact resistance of 100mW. Mechanical and electrical life is to 50,000 operations, and operating temperature ranges from -40°C to +85°C. The switches are pick and place compatible and available in bulk or tape and reel packaging (3,000 pieces per reel). The SDS Series is RoHS compliant and compatible.

Typical pricing for the SDS Series micro-miniature side-actuated detect switches ranges from $0.44 to $0.46 each in quantities of 12,000 pieces.

About C&K Components

C&K Components is a division of CoActive Technologies, a privately held company
manufacturing electromechanical switches, interface controls, keypads, dome arrays and
modules. www.ck-components.com