Dessicant Cabinets replace vacuum oven baking of components.
Press Release Summary: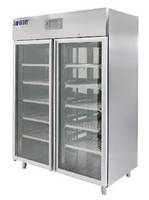 Designed to exceed challenges associated with IPC J-STD-033B.1 for handling Moisture Sensitive Devices, XSD Series can dry PCBs without oxidation and inter-metallic growth induced by baking. Cabinets employ dual-wall, insulated steel and glass design and U5002 Dynamic Series closed loop dehumidification. Consuming less than 30 W/hr on average, cabinets deliver optimal humidity levels below 0.5% RH, vapor content less than 0.6 g/m³, and recovery time of less than 240 sec after door opening.
---
Original Press Release:

Super Dry Expands Oxidation Free MSD and PCB Drying Alternatives



Super Dry by Totech, (www.superdry.info) Moisture Sensitive Device specialist and manufacturer of ultra low humidity chambers, has expanded their advanced series of oxidation free drying and storage systems including new features and new price/performance configurations.

Designed to exceed the formidable challenges associated with IPC J-STD-033B.1 for handling Moisture Sensitive Devices, the XSD Series desiccant cabinets offer a process combining ultra low humidity and mild temperatures proven to replace vacuum oven baking of taped on reel components at a fraction of the cost. IPC 1601 prohibits the baking of OSP coated boards, and warns against baking any board types. The Super Dry XSD cabinets can dry PCBs and other moisture sensitive devices at high speeds without the oxidation and inter-metallic growth induced by baking. And, unlike vacuum or baking ovens, the XSD cabinets also offer cost effective long term and short term MSD safe storage solutions in full compliance with 033B.1 specifications.

The XSD Cabinet Series has been expanded with two additional configurations that employ a unique, energy saving dual wall insulated steel and glass design and the U5002 "Dynamic Series" closed loop dehumidification. Optimal humidity levels are below 0.5%RH and vapor content of less than 0.6g.m3. Recovery time after door openings, the most overlooked operational function of MSD storage systems, is unmatched at <240 seconds. In addition, their unique design regenerates only when necessary according to cabinet load, thereby further reducing energy consumption, which averages less than 30W/hr.

Oxidation has always been a very significant drawback of baking components, and in fact even a single bake cycle at typical 125o temperatures will significantly increase wetting times. The Super Dry process dramatically reduces this oxidation risk, because it employs mild, low heat delivered within an exceptionally dry atmosphere. The oxygen molecules in water are a much greater catalyst to the oxidation process than those in the air. So heating at the sub 0.5% RH levels the XSD is capable of achieving does not promote the oxidation common to traditional processes. And furthermore, 50 degrees C is safe for tapes and reels, enabling drying of taped component without damage. This fully eliminates the cost and logistics of removing components from tape prior to drying, then re-taping for subsequent production use.

Learn more at www.superdry.info

About Totech Super Dry®

Delivering globally to the world's top tier OEM and EMS companies, and manufacturing in Asia and in Europe, Totech Super Dry has become the industry measure for ultra low humidity storage cabinets. Proper control of moisture sensitive devices (MSDs) per IPC and JEDEC standards has become more critical than ever since the introduction of lead free and its higher reflow temperatures. Boasting 0.5% relative humidity control and the fastest recovery times, Super Dry cabinets are available in a wide range of sizes and configurations, all with certified performance control measures.


More from Software